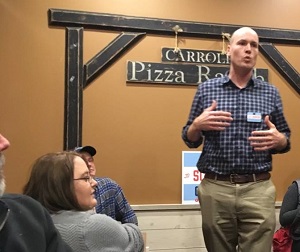 J.D. Scholten, one of several Democratic candidates challenging Republican incumbent, Steve King, for Iowa's Fourth District Congressional seat, visited the Carroll Pizza Ranch Wednesday to meet voters and answer questions about his campaign. Scholten, a paralegal and former baseball player from Sioux City, told attendees his campaign is centered on inclusiveness rather than the divisiveness that is seen in politics today. He says his grandmother, Fern, was his inspiration to run for office and fight for the things he believes in.
Scholten says the high cost of health insurance is creating a barrier to innovation in Iowa and has ideas he thinks will remedy some of the problems.
Scholten looks to the district's nearly three percent unemployment rate as a sign that a lot of people are working but wage stagnation has many struggling to make ends meet. He says economic globalization is affecting Iowans, and just upping pay will not be enough.
To make all that possible, infrastructure updates needs to happen first in the region. Roads and bridges require maintenance, and he says high-speed internet access is more costly and less effective here when compared to many other areas of the country.
This is Scholten's first foray into politics and is up against at least three other candidates vying for a Democratic primary in June of 2018. Midterm elections will be held next year on Tuesday, Nov. 6.