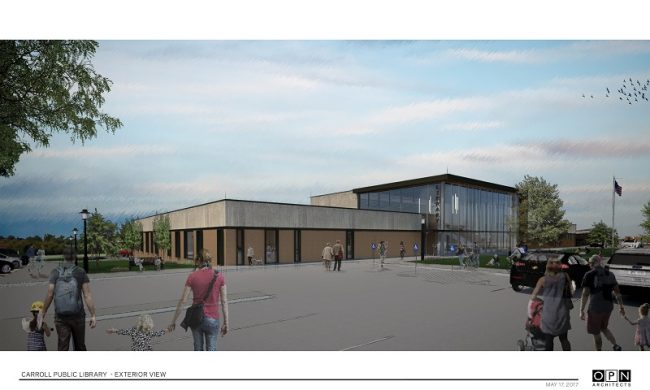 At their regular meeting on Monday, May 22, the Carroll City Council will be reviewing the new fireworks bill, Senate File 489 that was recently signed into law by Gov. Branstad, and opening discussions on how the city will provide oversight of sales and use. In addition to that, City Manager, Mike Pogge-Weaver, says council members will get their first look at the work done by the Carroll Library Steering Committee on the proposed Carroll City Library expansion in the Farner Government Building and the renovation of Commercial Savings Bank into a new City Hall.
The city's contract with OPN architects for drawings to be produced for a referendum campaign included one exterior and one interior rendering and floor plans of the new library space as well as floor plans only for the city offices in the Commercial Savings Bank building. Vice President of Commercial Savings Bank, Ryan Milligan, attended the latest Steering Committee meeting and asked OPN architects, Danielle Hermann and Joe Feldmann, if they were open to producing more detailed drawings of the city offices in the bank building.
Pogge-Weaver adds that it is not as easy to decide how to show the interior of what will be mainly office space.
Milligan says he believes more visual representations of what work is being estimated could be invaluable in helping the community come to fully understand that a bond referendum is really for two projects, not just a library. Pogge-Weaver says they are working on developing communication on that very topic.
Other agenda items include plans and specifications for downtown streetscape eight, final plats for the Danzer and Northridge fourth addition subdivisions, streetlight additions for Timber Creek East subdivision plat five and a possible discussion on the monument signage on Highway 30 east if the documents are received in time to be included in the meeting. The Carroll City Council meeting will begin at 5:15 p.m. in the second-story council chambers at City Hall. The OPN renderings are included below.