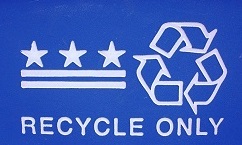 Many of the stakeholders and refuse haulers from the surrounding area attended an informational meeting Wednesday night at the Carrollton to learn more about the possible transition of the Carroll County Solid Waste Commission's recycling program from a dual-stream to a single-stream system. The change would make recycling easier for residents by removing the need to separate certain recyclables into different containers. At this time, the Commission is only exploring the feasibility of the change. Environmental Engineer, Nathan Klett, and Environmental Planner, Jennefer Klennert, from Foth Infrastructure and Environment, LLC. were in attendance to provide more information on a study they performed and answer any questions. According to Klett, current data shows that a significant amount of recyclables are still ending up in landfills using dual-stream systems.
He adds facilities have seen improvements to those numbers after switching to single-stream. He cited a case study from Scott County where they saw an increase in household participation and a decrease in total waste going into the landfill. Klennert notes that making the change does have some negatives.
Haulers also expressed concerns that a transition would require costly equipment purchases that could end up being passed on to consumers. While cost estimates are not yet available for the project, there are funding options offered through the Iowa Department of Natural Resources, Recycling Partnership Fund and similar organizations. The next step for the Commission is to evaluate the study and determine how they wish to proceed. That decision is anticipated to be made in approximately six to eight months.