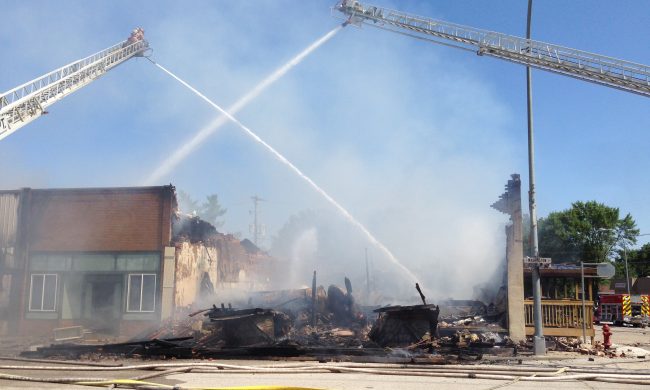 An investigator with the State Fire Marshal's Office was back in Exira Monday working to determine what caused Friday's blaze that destroyed four businesses on a city block. Exira Fire Chief Mike Bintner says they weren't able to get a close look at the scene as small fires are continuing to flare up in the wreckage of the buildings, as recently as Sunday morning.
Bintner says they were able to hit some hot spots from overhead with the help of aerial equipment. The chief says he didn't see any smoke coming from the rubble Monday morning.
Firefighters from at least two dozen nearby communities helped battle the blaze and he says the support from the locals has been fantastic.
At last report, more than 27 fire departments and over 71 firefighters were on the scene last Friday to help haul in water by tanker truck and to provide the manpower needed to fight the large-scale blaze.
~Courtesy Radio Iowa/KJAN Radio