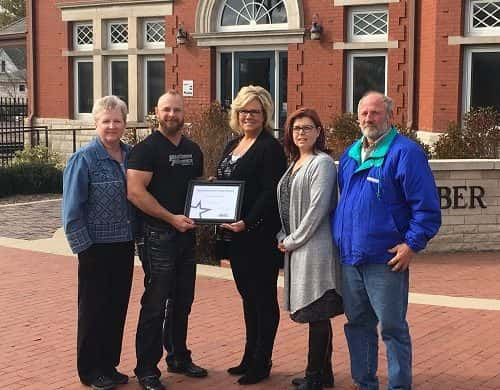 Pictured (L-R): Karen Wernimont, Tony Wernimont, Kimberly Tiefenthaler, Tricia Janes and Mark Wernimont
A Carroll company has been selected as the winner of the Iowa Small Business Development Center's (SBDC) Business of the Month Award. Platinum Fitness, owned by Tony Wernimont, was recognized during a Carroll Area Development Corporation (CADC) meeting Tuesday. Associate SBDC State Director, Tricia Janes, and North Central Regional Director, Kimberly Tiefenthaler, attended the meeting and presented the award to Wernimont. Janes says being selected is not an easy process.
Before giving the award to Wernimont, Tiefenthaler acknowledged the CADC Board for all they do to support the SBDC.
Wernimont thanked past and present members of Platinum Fitness, his staff and the community for his success, saying the award means a lot to him and to Carroll.
Platinum Fitness, which is located on the east edge of Carroll, opened in January of 2015 and aims to provide a positive, welcoming environment to teach proper workout skills and help their clients towards optimal health. For more information about Platinum Fitness or the SBDC, follow the links included with this story.
https://www.facebook.com/platinumfitnesscarroll/