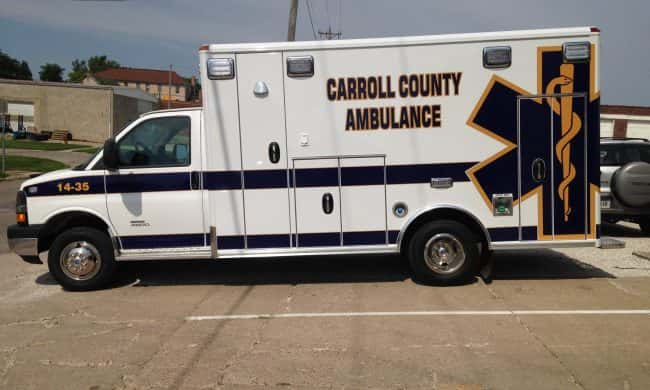 Last Thursday, a committee made of up Carroll County Supervisors, members of the Carroll County Ambulance Board and the County Auditor conducted interviews of three candidates for the Carroll County Ambulance director position. Gene Meiners, Rich Ruggles, Dr. Michael Slattery, Michael Schwabe, and Kourtney Irlbeck were asked to make a recommendation from the three highly-qualified candidates they interviewed that were selected from the seven resumes received. At Monday morning's supervisor meeting, Ruggles discussed how the process went last week.
It came down to a four to one vote on who they would recommend to fill the position that was vacated by Pat Gray in late August.
The offer would also call for an immediate stop to the $1,500 payments that Darrell Baker was receiving over and above his paramedic salary for the interim work he has done for the past two months. Meiners and Ruggles said it was a very tough decision, but recommendations that came in from many people within the Carroll community and from those outlying communities in the county tipped the scale in Baker's favor. Supervisors Neil Bock and Dean Schettler, however, asked that they not waive a probationary period for Baker. Bock suggested that it reflect the time he has already devoted to the position.
It was a unanimous vote to approve the recommendation of Darrell Baker for the director position for Carroll County Ambulance Services at a salary of $65,000 per year, effective the date of his acceptance of the offer. He will also be required to fulfill a six month probationary period with credit for the two months he has already served in the position. This will also make him eligible for a pay increase at the onset of the next fiscal year on July 1, 2018. Baker accepted the offer and will become director officially upon signing his contract.