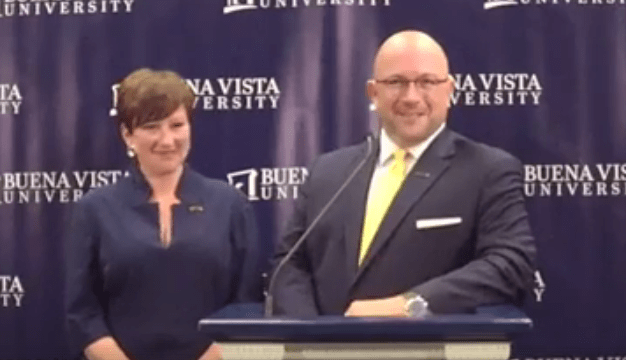 Photo: BVU's newly-named President, Dr. Joshua Merchant and his wife Carrie, talked with students, staff and the media Wednesday at the Storm Lake campus. 
On Feb. 20, the Board of Trustees at Buena Vista University (BVU) announced the appointment of Dr. Joshua Merchant as their 18th President. Merchant, who was most recently the vice president of development and alumni engagement at the University of North Florida (UNF), made a special appearance at the Storm Lake campus on Wednesday. He says the process has been a whirlwind for him and his wife, Carrie, but they and their two sons, 14-year-old Eli and 11-year-old Griffin, are excited about making the move to Storm Lake. He added the process has been humbling and there were many reasons why he chose Buena Vista University.
Merchant is looking forward to working with the strong foundation and relationships that exist at BVU and building on those. He wants to learn more about the community and the region, saying he knows what it takes for liberal arts to survive, and that is the support from those areas. BVU is facing similar challenges to other institutions for which Merchant has worked, with enrollment being one of the biggest challenges they are all facing. He said one of the keys to adding value and increasing the richness and rewards inherent with a BVU education will rely on maintaining and building the partnerships they share with other colleges in communities throughout Iowa; such as the partnership with Des Moines Area Community College (DMACC) in Carroll.
Merchant added, though specific enrollment goals have not yet been identified, other goals are firm, such as is his getting settled and connected and learning as much as possible about the university and the community.
Merchant, who calls himself a "student center guy," says everyone can expect to see a lot of him during his tenure at BVU. People will see him on campus, walking around the forum, in the dining hall, on the main thoroughfares throughout campus and he will be challenging students to show up, be present and support their peers in everything they do. The same will hold true for his family. Merchant says they will also be found at the spaghetti suppers, athletic and school events and other activities around town. Merchant will officially take over from Dr. Fred Moore on July 1.