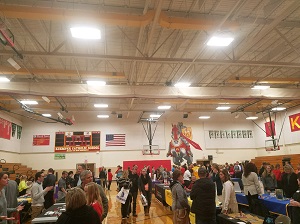 More than 100 students and families attended the 2017 College Fair in Carroll Tuesday night to help them decide on how to continue their education after high school. The nearly two-hour fair was hosted by Kuemper this year in the high school gymnasium. High School Counselor, Bailey Hackathorn, says many organizations turned up for the event.
The College Fair is hosted every fall, alternating host sites between Carroll and Kuemper each year. Students from many of the surrounding school districts are also invited to attend. Hackathorn says these types of events are critical to helping families make decisions for their son or daughter after they graduate.
Hackathorn adds many parents spoke with her after the session and expressed their appreciation for how informative and helpful the session was for them. The college fair is put on by the Iowa Association for College Admission Counselors and will be hosted at the Carroll High School next fall.