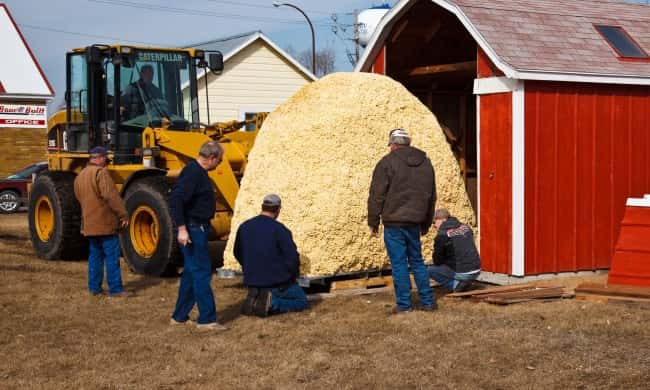 Residents in Sac City, the self-proclaimed Popcorn Capital of the World, plan to cook up a massive popcorn ball later this week to reclaim the title of world's largest popcorn ball. Shirley Phillips, executive director of Western Iowa Tourism, says Sac City has already set the world's record three previous times, most recently with a five-thousand pound popcorn ball in 2009.
It's anticipated the new record-setting popcorn ball will be 10 to 12 feet tall. A larger building is being constructed in Sac City just to house it, Phillips says, and a small army is being assembled to create the enormous sphere of popcorn on Saturday.
The final weight will be verified by an Iowa Department of Transportation scale but she notes, before it comes to that, it'll be a complicated process to create the world's largest popcorn ball.
Sac City first created the world's largest popcorn ball in 1995, weighing 2,225 pounds. That record was later beaten and another record-setter was created in 2004, tipping the scale at 3,100 pounds. Again, someone built a bigger one and Sac City created its most recent 5,000-pound popcorn boulder in 2009. Phillips says popcorn was introduced to growers in Sac County in 1885.
Courtesy Radio Iowa