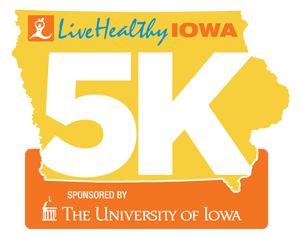 Getting people up off the couch and moving is the goal of Live Healthy Iowa, and in late December people from across the state started signing up for the challenge with teams forming in January. People took on the 10 week challenge in order to improve their health while engaging in fun and friendly competitive activities, and on Saturday, April 9, all their hard work is set to pay off. People are gearing up for a 5K Run/Walk challenge at Swan Lake which will begin at the East Shelter House at 8:00 am with a 1K Kid's Run to follow at 9:00 am.
Everyone is welcome to register for the event, which can be done at www.livehealthyiowa.org, and if you're a Live Healthy Iowa 10 Week Challenge member it's not too late to receive $10 off your registration. Currently 65 people are signed up for the race and organizers are hoping to see at least 100 people out on the course. Onsite registration will also be available on race day starting at 7:45 am that morning.
If you're just crawling out of a winter hibernation it's not too late to join. To shake off that stiffness of winter you can take advantage of free indoor walking opportunities on Wednesdays at area gyms including the Carroll Rec Center, from 5:30 am to 9:30 pm, the Manning Rec Center, from 8:00 am until 3:00 pm, and the walking path at the Glidden Wellness Center from 8:00 am to noon which are all open for free admission as part of Walk to Wellness Wednesdays. The Live Healthy Iowa program is sponsored by the University of Iowa and for any questions contact Laura Schaefer at 712-792-1000.