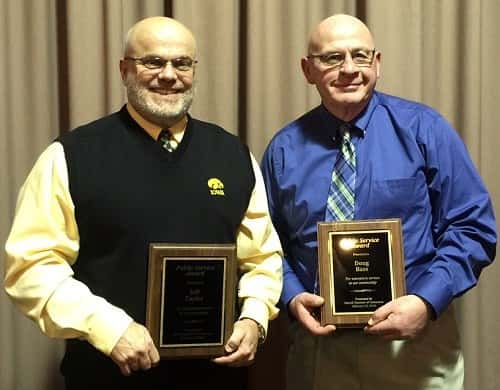 It had to be a tough decision for Carroll Chamber of Commerce members in selecting this year's winners of Public Service Awards, but the cream did rise to the top with the announcement of each of the two winners at the annual banquet last night (Monday) at the Carrollton. With so many accomplishments for each, it was tough for presenter Eric Neu to keep secret long just exactly who was being named the award winner.
He went on to say that this award winner is a second degree black belt in Taekwondo—serving as an instructor, a top fundraiser for Relay for Life, started the DARE program in Carroll County in 1993, was instrumental in developing the E911 and Seniors and Law Enforcement Working Together programs, as well as—Neu swears to this—an avid collector of Precious Moments figurines. By now, everyone in attendance had guessed the winner was Sheriff Doug Bass, who said this was truly an honor.
The other recipient of the Public Service Award began his career in 1981 and was promoted to a management position at the very young age of 26 in 1985. He was the administrator of the City/County Communications Center, an adjunct professor at Des Moines Area Community College, a physical fitness instructor for law enforcement and chairman of Region XII and the E911 boards. Neu had even more to add to this impressive list.
It was no surprise to anyone that after over 30 years of service to Carroll, retired Police Chief Jeff Cayler was recognized for his public service. But he was surprised by the recognition.
Fortunately for the people of Carroll, Cayler excelled in that position. We will bring you more from last night's (Monday) award winners in upcoming broadcasts.