Meet aerobatic pilot, Julie Clark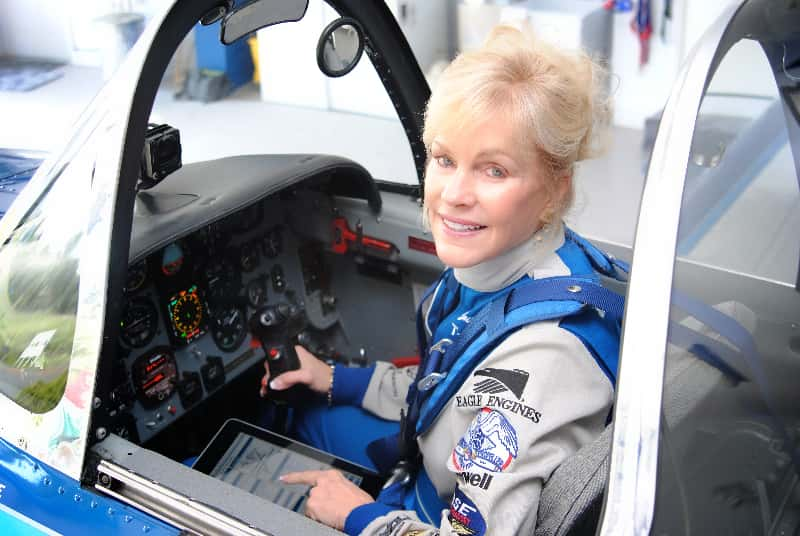 This year marks the 15th anniversary of 9/11, and the Masonic Lodge in Carroll is preparing to put on a special, patriotic air show to accompany their annual flight breakfast at the Carroll Airport this weekend. On Sunday, Sept. 11, renowned aerobatic pilot, Julie Clark, will perform her moving solo act during the noontime show. Clark has been flying her warbird, military type airplanes in airshows for the past 37 years, and is currently averaging around 14 shows per year. She says years of flying finely choreographed routines has led her to Carroll on this memorial occasion.
Clark, who has residences on air parks in Minnesota and northern California, has not only flown for entertainment purposes, she spent nearly 30 years as a commercial airline pilot for Northwest Airlines. She began flying in 1969 and was one of the first female airline pilots, but says the two types of flying are so different that she can't claim to favor one over the other.
In addition to Clark's solo act, attendees at Sunday's free airshow will see Vanguard, a group of ethanol powered aircraft that will fly in formation and conduct specialized maneuvers. A full flight breakfast of pancakes, eggs and sausage will start at 6:30 a.m. and be served until 1 p.m. for a cost of $8 for adults and $5 for children. There will be concessions served the rest of the day, the Life-flight helicopter and a P51 Mustang will be on display and there will be airplane rides for children and adults alike. Clark says she is looking forward to this family-friendly event."
Clark will be arriving Sunday morning and will be meeting the public before and after her show. More information on the breakfast and the airshow can be found at www.Carrollairshow.com.