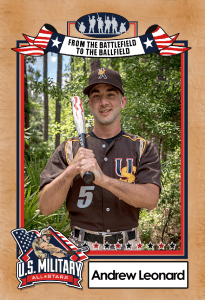 The U.S. Military All-Stars matched up against the Carroll Merchants Friday night, and a local man has been playing with the team of veterans this baseball season. Andrew Leonard served with the Air Force for eight years and managed to continue his love of baseball throughout his service and after. This is his first season playing with the U.S. Military All-Stars.
Leonard has loved his time with the team, but both he and team Vice-President of Development, Tank Stone, said baseball is far from the primary motivation for the team's tour.
Leonard says the players get as much from playing with the team as those who they set out to honor. He said that it helps him with the day-to-day stress that some vets deal with and focus, rather, on the joys of America's past-time
The whole team made it clear that showing these veterans the honor and respect they earned is one of the best parts of playing with the team. When asked about a special moment from his tenure on the roster, Leonard didn't hesitate to remember.
To see Andrew Leonard's roster page or to contribute to help fund the U.S. Military All-Stars team, visit the link included below this story.
_________________