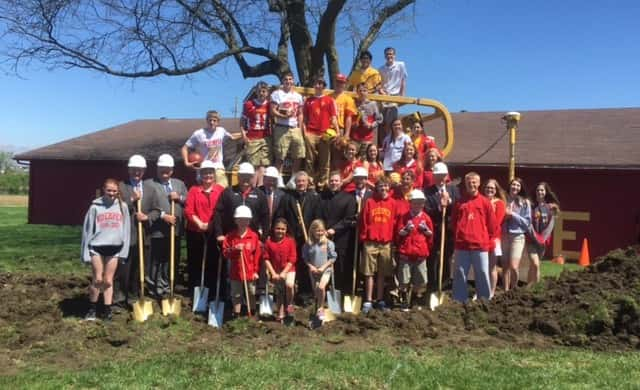 n a beautiful Monday afternoon, over one hundred people converged on the greenspace adjacent to the Kuemper fieldhouse on south Grant Road in Carroll to celebrate the groundbreaking for a new 26,000 square-foot athletic complex. Kuemper Catholic Schools President, John Steffes, greeted the crowd and thanked everyone for coming, giving special thanks to many who have played a role in getting them to this day. He said the slogan, "All In" has been seen on football helmets, shirts and posters throughout the two-and-a-half year Kuemper Tomorrow capital campaign, and one group in particular is a living symbol of that slogan.  
Many of the volunteers and donors were present as well as well as representatives of the firms doing the design and construction: Kuemper graduate Todd Wiskus of Simonson & Associates Architects of Des Moines and Keith Pottebaum of Rotert Contstruction in Halbur. Before introducing Jim White, chairman of the Kuemper Foundation, Steffes said the original building was constructed for a few football players in the 1950s, but now the times are different and the rich Catholic faith in the community is providing a rich experience for the students in the classroom as well as outside of it. White said the campaign was really not work, it was a gathering of the good wishes and the treasure of all the people in the Kuemper family.
The Kuemper Booster Club was represented at the ceremony by Scott and Dr. Cathy Tigges. Scott said he had used the facility when he was in high school and is really looking forward to how much the new building will benefit each and every student.
Special guest, Bishop R. Walker Nickless, blessed the people gathered and the project and said the spirit of Kuemper is a source of pride for the entire diocese. He thanked all the donors who care so much about Catholic education, the teachers who sacrifice for the kids and their education and a special thank you to the parents and students.
With the groundbreaking ceremony completed, Steffes said they are anticipating construction work on the estimated $1.6 million project to get underway within the next week. The building is scheduled for completion and to be open for use in December of this year.