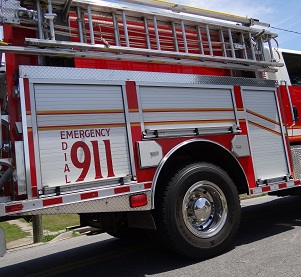 At approximately 12:16 this morning (Wednesday) a passerby reported to Jefferson Emergency Management that they had seen smoke issuing from the Pizza Ranch building in the downtown district. Police Chief Mark Clouse said the Jefferson Fire Department responded immediately and was soon assisted by the Grand Junction and Churdan Fire Departments. The Carroll Fire Department brought their aerial truck in case it was needed.
Clouse said there is no preliminary indication of what started that fire.
Crews had the fire under control by 4:45 a.m. and a few personnel are still on scene (were still on the scene at 8 a.m.) to check on hot spots. Clouse said the natural gas has been shut off to that section of buildings and other normal precautions are in place. The structure is still sound, so they do not anticipate any walls or pieces of the building coming down. Greene County Emergency Medical Services and the Greene County Sheriff's Office also assisted at the scene. We will bring you updates on the cause of the fire as they become available.