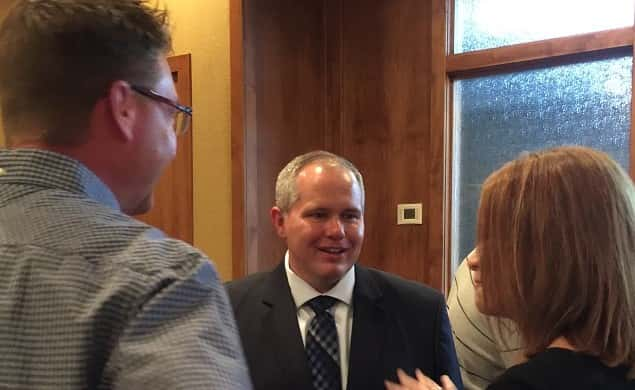 The Carroll City Council and Mayor, Dr. Eric Jensen, announced this morning (Wednesday) that a conditional offer for the position of Carroll City Manager has been made to Michel Pogge-Weaver of Benson, Minn. Pogge-Weaver is the current county administrator in Swift County Minn. and was one of three candidates vying for the position who participated in a public forum and interviews held the weekend of Aug. 26. He said Carroll had made a very big first impression on him and was exactly the type of community he wanted to work with in the future.
He said August was not his first visit to the Carroll area as he was raised nearby in Fort Dodge and has relatives from the Lake City area. He and his family were specifically looking at the Carroll position to move closer to home. Pogge-Weaver will bring a great deal of proficiency to the city manager role with nearly 16 years of experience in community planning, development and administration. He says some of his most valuable growth experiences came from working in Ankeny as their housing and business economies have exploded.
The Carroll City council will consider approval of the conditional offer made to Pogge-Weaver at their next meeting, Monday, Sept. 12. At a later date, a formal contract will be presented to the council for review and approval. If the council approves the contract, Pogge-Weaver anticipates being able to begin duties as Carroll City Manager on Monday, Oct. 24.