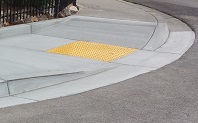 On March 28, the Carroll City Council participated in a work session, learning all about pedestrian access routes and curb ramps and the federal guidelines necessary to develop a transition plan. The plan requires the city create a curb ramp construction program with a funding designation to make necessary changes at intersections for handicap accessibility. In addition, plan guidance must include the number of locations, number of ramps completed per year and completion priorities to be established. There is also a requirement the council allow for a public involvement period. Randy Krauel, public works director, said he had distributed the costs and an estimate of need to the council members.
Krauel added that he had reached out to contractors to discuss what it would take to entice them into town to build ramps. He was told it would likely take a minimum of $50,000 and possibly up to $100,000 in estimated project costs. The city has included ramp improvements budgeted into nearly all street projects, so there is progress being made in addition to the schedule that the council would implement. Council member, Jerry Fleshner, asked Krauel how the projects would be prioritized for the plan.
Brandon Vonnahme questioned whether the city would be better off supplementing the scheduled street projects to reach a total goal for the year; such as saying there will be 34 ramps completed with the year's street projects, so we would need to add 66 ramps to reach a total of 100. The biggest issue with that option, City Manager, Gerald Clausen cautioned, was the inability to set future budgets based on the annual fluctuations in projects. The Council did set the dollar amount for the transition program at $50,000 per year, but will reserve the right to alter that amount at future dates. The transition plan will be open for public comment from today through June 13, at which time the City Council will place it on the agenda for adoption.