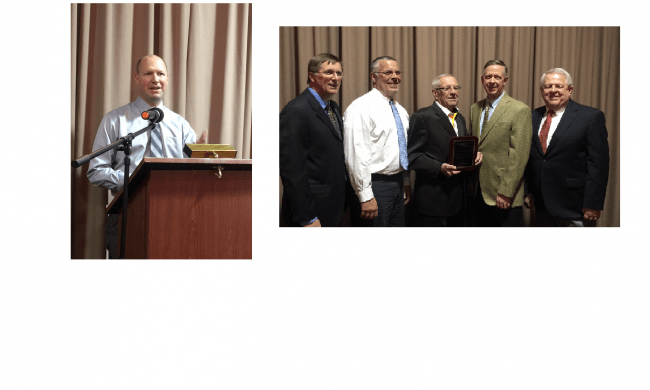 New Business Award Winner: Culver's Restaurant
Heritage Award Winner: Greteman and Associates 
The Carroll Chamber of Commerce recognizes two businesses each year at their annual banquet with their business appreciation awards, which were developed to showcase the businesses that strive for excellence in products, service and management. The New Business award is for a business in its initial growth phase. Former Police Chief, Jeff Cayler, presented this year's award last night (Monday) at the Carrollton, saying that he had unknowingly made several quality control runs to this business since it opened in 2012. He is also well aware of how they have given back to Carroll.
He added that over the past three years, they have been one of only four Iowa teams to make it to the regional finals of the Crew Challenge, which evaluates managers and team members on their performance and standards and they have received the Commitment to Excellence Award in 2013 and 2014. Culver's and owner/manager, Kevin Reincke, Cayler said, were the natural choice for this year's award. Reincke thanks his wife and family for their support and his managers and team for their outstanding work. And he added, that even though they operate under a franchise, this is a Carroll, hometown business through and through that wants to give back to their community.
The Heritage Award is presented to an established local business that has a successful history. Jim Auen outlined the rich heritage of this year's winner, saying they started as a one-man, part-time operation that sold life insurance in 1950. Two years later, the owner's brother returned from the Korean War and joined him, and they expanded by adding property and casualty lines. Soon they also expanded into real estate. The business continued to grow and it wasn't long before their four sons came on board.
Greteman and Associates are also members of the Carroll Chamber, Carroll Area Development Corporation, have fully supported the Carroll Leadership Class, Kuemper Catholic Schools, the Kuemper Capital Campaign, the Kuemper Ball, New Hope Village, Pheasants Forever, have had staff who coached in the community and are supporters of several local churches and parishes. Matt Greteman said they are all grateful for this recognition, and there have been a lot of rewards in working as a family for all of these years, and a lot of people to thank for this award.
We will bring you more from the Humanitarian Award Winner, Marilyn Setzler as well as an introduction to the Carroll Chamber President and new board members for 2016 in an upcoming broadcast.