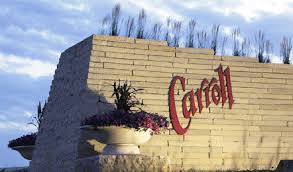 After a public meeting last Tuesday to preview upcoming Third Street and trail projects slated for the 2017 construction season, Carroll City Manager, Michel Pogge-Weaver, discussed a breakdown of the project costs and funding sources. The work on Third Street was broken out into two phases with the first, the storm sewer improvements, completed this year.
Next year, the city will be working on the hot mix asphalt (HMA) resurfacing of Third Street that will include some gutter and possibly sidewalk work. Pogge-Weaver said the question of incorporating sidewalks into the plan is still being discussed.
He said that in Carroll, as in many other municipalities, the upkeep and repair of sidewalks is the responsibility of the property owner unless the city has done work to remove or damage the walkways. At a minimum, Pogge-Weaver said, they will replace the drops to make the crossing areas compliant with the American Disabilities Act (ADA). When it comes to trail funding the city has developed a comprehensive plan to incorporate trails throughout the city, and these have been broken out into five phases with approximately eight trail segments in each phase. The newly proposed Third and Carroll Street Trails were not an original part of the plan.
Outside of the grants, the trail system projects are funded through hotel/motel and Local Option Sales Tax (LOST) proceeds. The city has already set aside funds from both of these sources in previous years to help pay for these projects. Pogge-Weaver said they are not intending to use general fund dollars for these projects and they will be moving forward with the segments as the funds become available. He added that the recreational trail system is something that city leaders are continually hearing as a want by current and proposed residents as this can be used by people who want to run, walk or bike throughout the community.