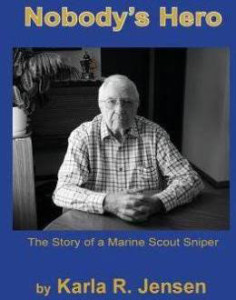 Karla Jensen, an Audubon native, is telling the story of a U-S Marine who served as the Corps' top scout, sniper and expert in hand-to-hand combat during World War Two. She met 91-year old Del Schultz at a senior center in Beaver Dam, Wis., as they were both in writers' groups. Jensen says Schultz approached her one day with a story he'd never told anyone, not even his family.

Schultz was a member of the first sniper-scout school ever assembled. Jensen and Schultz met every other week over a period of 18 months. He had two stipulations with regard to the book, including that his real name not be used.

For the first 15 months, she wrote the story using the surname Leo, the name of her late father, who served in the Coast Guard during World War Two. Jensen says Schultz didn't want his family to know about his past.

Schultz wanted his story to be held until he was on his death bed, but eventually agreed to allow his real name to be used in the book and for his family to be filled in. Jensen called Schultz' son and told him about his father's hidden past.
The biography/memoir eventually ended-up being 60-thousand words. Schultz suffered from Post Traumatic Stress Disorder but never let on how much it affected him until after he began telling his story to Jensen. The title of the book is "Nobody's Hero: The Story of a Marine Scout Sniper." Jensen plans talks and book signings on April 7th at the Audubon Public Library and April 8th at the Irwin Public Library. The book is available at BarnesandNoble.com and Amazon.
–Courtesy Radio Iowa