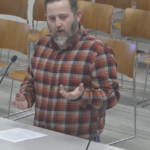 Pictured: Compliance Officer Rick Pugh addresses the city council during the Jan. 23, 2023 meeting.
It has been over 18 months since the City of Carroll implemented its rental housing inspection ordinance, and Compliance Officer Rick Pugh says most landlords are actively working with the city to bring their units up to code. Pugh updated the council during last night's (Monday) meeting. He says inspections began in June 2021.
According to Pugh, most out-of-code items are easy for landlords to fix, such as missing smoke and carbon monoxide detectors or GFCI outlets. Nearly all of them are corrected within the allotted 30-day window after notice is sent. However, Pugh says there are still close to two-dozen rental properties that are out of compliance.
Pugh adds he actively works with landlords that have a maintenance plan in place to ensure those properties are updated in a timely and reasonable manner. Pugh says that is not the case for all properties.
Several council members noted a significant portion of Pugh's time is spent dealing with a handful of landlords, one of them being Fairview Village. Currently, three of its five buildings are out of compliance, and the owners have been slow to respond to the city's code requirements. The initial and first follow-up inspections come at no charge, but it increases to $50 for subsequent assessments. The city has not been charging for those inspections yet, and Mayor Mark Beardmore says it is time to include inspection fees to encourage compliance.
The council directed Pugh to utilize the rental inspection fee where applicable and pursue other routes, including administrative warrants, to ensure landlords comply with the city's rental housing inspection ordinance.