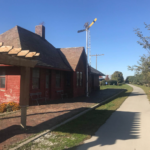 The Carroll County Board of Supervisors has set a public hearing date for Feb. 6 regarding the proposed sale of the historic Breda Depot. Late last year, Rhonda and Chuck Martin approached the county with a proposal to purchase the former Chicago and North Western station on the Sauk Rail Trail and convert the historic structure into a bike rental shop, and, possibly, a café. According to Board Chair Stephanie Hausman, county officials recently received a formal offer for the building from the Martins.
Details of the offer were not made public on Monday to not create an unfair advantage for other parties interested in the property. The supervisors did not indicate there had been any interest from other individuals, but the public hearing ensures the future sale would comply with Iowa Code. Hausman notes any additional offers must include a specific clause for the county.
Bids must be submitted to the Carroll County Board of Supervisors during the public hearing, which is scheduled for 9:30 a.m. during the board's Feb. 6 meeting.