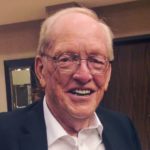 Darrell J. Sunderman, age 92, of Carroll, Iowa, passed away on Monday, November 21, 2022.
     Funeral services will be held at 10:30 A.M. on Monday, November 28, 2022,at St. Paul Lutheran Church in Carroll, Iowa, with Pastor Ryan Roehrig officiating.  Pallbearers will be Rob Naberhaus, Chad Williamson, Eric Jaffe, Jon Kratzke, and Justin Lindsay. Organist for the service will be Abe Batten.  Burial will be in the Carroll City Cemetery with military honors conducted by the Carroll American Legion.
     Visitation will be held from 5 – 7 P.M. on Sunday, November 27, 2022, at the Dahn and Woodhouse Funeral Home in Carroll where there will be a prayer service held at 6:30 P.M.  Visitation will resume prior to the service on Monday, November 28, 2022, at St. Paul Lutheran Church from 9:30 A.M. – 10:15 A.M.
     Funeral arrangements are under the direction of the Dahn and Woodhouse Funeral Home in Carroll and online condolences may be left for the family at www.dahnandwoodhouse.com
     Memorials may be made to St. Paul Lutheran Church online at https://secure.myvanco.com/L-Z224 or St. Anthony Regional Hospital Dialysis Program at  https://www.stanthonyhospital.org/about-us/support-us/donate-online/   Memorials may also be left with the funeral home or at the church.
     Darrell was born on April 6, 1930, in Clarinda, Iowa. He attended Clarinda High School and Iowa State University, graduating with a degree in Agriculture. He was a lifelong supporter of Iowa State University – a season ticket holder for men's football and basketball for over 50 years. One of his true joys was following the Cyclones.
     Growing up on a farm, he was active in men's 4-H, winning several state championships showing his angus cattle. He held several local and state 4-H offices while involved in the organization and particularly enjoyed 4-H judging at the Iowa State Fair. He remained active in farming his entire life. Darrell married his college sweetheart, Shirley Schoech, on June 28, 1953. He served in the U.S. Army during the Korean War and participated in the Honor Flight for veterans in 2015.
     Darrell was very involved in St. Paul Lutheran Church activities in Carroll, serving in many offices including an elder and chairing several committees over the years. He was also an active member of the St. Paul Church Choir, the Elk's Chorus, and the Carroll Community Chorus. The past twenty years he was a board member and actively involved in The Iowa Barn Foundation, a nonprofit aimed at preserving and restoring Iowa barns.
     Darrell's career was in farm mortgages and real estate. He worked for Metropolitan Life Insurance Company, Farm Mortgage Division, for 35 years, then founded Sunderman Farm Real Estate which he ran until his retirement. Darrell loved to visit with people, which served him well in his career. Other favorite pastimes, besides following the Cyclones, were traveling the world, spending time with his family and friends, and playing cards. He particularly loved following his children's and grandchildren's activities, rarely missing a game or dance recital.
     Darrell is survived by his loving wife, Shirley Sunderman of Carroll, Iowa; his three children and spouses: Sherry Sunderman (Tom Mueller) of Dallas, Texas; Cindy (Leon) Naberhaus of Carroll, Iowa; and Dave (Linda) Sunderman of Madison Lake, Minnesota. He is also survived by five grandchildren: Rob (Erin) Naberhaus of Scottsdale, Arizona; Anne Naberhaus (Chad Williamson) of Omaha, Nebraska; Katie (Eric) Jaffe of Carroll, Iowa; Heidi (Jon) Kratzke of Perham, Minnesota; and Sarah (Justin) Lindsay of St. Louis Park, Minnesota. Darrell is also survived by eight great-grandchildren, his sister LaDonna Discher of Lakeville, Minnesota, and several nieces and nephews.
     Darrell was preceded in death by his parents: Alvin and Malinda Sunderman of Clarinda, Iowa, his infant brother Donald, his sister and husband Leora and Max Sundermann, his sister and husband Darlene and Bob Wilson, his brother and wife LaVern and Jenny Sunderman, his brother-in-law Rev. Norman Discher, and his niece Sandy Wilson.