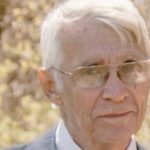 Terry Hunter, age 73, of Carroll, passed away Wednesday, September 21, 2022 at St. Anthony Nursing Home in Carroll, following a brief battle with cancer.
Visitation will be held from 4-6 p.m. on Friday, October 7, 2022 at the Sharp Funeral Home in Carroll with a service to follow at 6 p.m. Following the service refreshments and a celebration of Terry's life will be held in the Sharp Center. Private family burial will be held in Sacred Heart Cemetery in Manning.
Terry, the son of William and Neva Jean (Ehlert) Hunter was born on August 14, 1949 in Carroll, Iowa.  He attended Kuemper Catholic School in Carroll and graduated with the class of 1967. After working for the City of Carroll for a short time he joined the U.S. Postal Service where he worked for 27 years, mostly as a City Mail Carrier.
Terry was a devoted family man who enjoyed golfing, bowling, computer games, and of course his scratch tickets. He also enjoyed spending time with his children, grandchildren and great-grandchildren.
He is survived by his children: Dawn (James) Hemphill of San Jose, CA, Jason (Beth) Hacker of Carroll, Amy Hunter of Carroll, Nikki (Ken) Podewils of Carroll and Tyler Hunter of Carroll; 15 grandchildren:  Jeffery Hemphill, Marissa Hemphill, Catrina Hemphill, Joshua Hemphill, Ali Subbert, Madison Hacker, Ethan Hacker, Tyson Hunter, Tanner Hunter, Trey Hunter, Tierney Hunter, Cassidy Erlbacher, Maddux Hodges, Jayden Hunter, and William Hunter; 5 great-grandchilren; his mother: Neva Jean "Penny" Hunter; sisters: Penny (Pat) Leach of Omaha, Jacqui (Randy) Otto of Parkville, MO, Jeff (Kristi) Hunter of Aurora, CO.
He was preceded in death by his father: William Hunter, and his granddaughter: Breanna Hemphill.