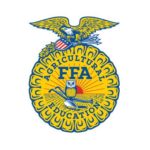 The Carroll Future Farmers of America (FFA) chapter approached the Carroll Community School Districts (CCSD) Board of Education, looking for approval on a restoration project. At Monday's meeting, Carroll FFA President Kaden Schoenfeld and Brandon Bohac approached the board for permission for a tractor restoration project. Schoenfeld describes how they will use the tractor after it is finished.
Schoenfeld says a tractor was donated to the chapter. The chapter formed a Tractor Committee for the project, consisting of seven members.
Schoenfeld adds the plan is to have the tractor entered into the 2023 State Fair as a chapter exhibit project. Bohac says most of the restorations will take place at his shop, and an adult will always be there.
All restorations for the project will be done after school. The board unanimously approved the project. Individuals wanting to follow along with the improvements from start to finish can visit the FFA chapter's Facebook page. A link to the page can be found included with this story on our website.