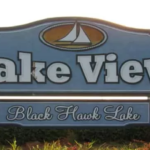 The Lake View City Council has reviewed the preliminary plans for the Lakeshore Drive Project and is ready for the next phase. At Monday's meeting, city officials met with engineers from Sundquist Engineering to go over the improvement plans for the road. City Administrator Scott Peterson says the council is looking at reconstructing the north half of Lakeshore Drive.
Peterson says they walked the project area to see the next plans and ensure everything is coming into place.
The hope is to bid the project out this fall, with construction set to start in the spring and a completion date of Memorial Day. He adds the council will use city funds and road use tax funds. The preliminary cost of the project is $111,000. Peterson adds this is a replacement project.
Again, the Neighborhood meeting is scheduled for Saturday, October 1, at city hall. For more information on the project, individuals can contact Lake View City Hall at 712-657-2634.