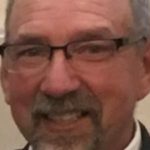 Kevin James Ricke, 64, of Westside, Iowa returned to his heavenly home on Sunday, July 24, 2022. He passed away unexpectedly in a farming accident.
Mass of the Christian Burial will be celebrated at 10:30 a.m. Saturday, July 30, 2022 at St. Ann's Catholic Church in Vail, Iowa. The celebrant will be Fr. Shinoj Jose. Music will be by Irene Feilmeier and the St. Ann's Choir. Lectors will be Thomas Ricke, Daniel Ricke, and Keith Ricke. Gift Bearers will be Krista Sporrer and Matthew Pudenz. Eucharistic Minister will be Lynn Ricke. Honorary Casket Bearers will be Emery and Isabelle Riha and Carver and Hadley Schall. Casket Bearers will be Douglas Ricke, Thomas Ricke, Daniel Ricke, Keith Ricke and Lynn Ricke. Burial will be in St. Ann's Cemetery near Vail, Iowa.
Visitation will be held at the Sharp Funeral Home in Carroll from 4-7 p.m. on Friday. A rosary followed by a time of sharing will be held at 6:30p.m. The casket will be moved to St. Ann's Church in Vail on Saturday morning where visitation will continue from 9:30 – 10:15 a.m.
In lieu of flowers, memorials may be made for a memorial fund for Kevin's Grandchildren or the Kuemper Catholic Schools Foundation.
Funeral arrangements are under the guidance of the Sharp Funeral Home in Carroll, and online condolences may be left for Kevin's family at www.sharpfuneral.com. Kevin James Ricke was born on May 16, 1958 in Carroll, Iowa, the son of the late Richard and Marietta (Demuth) Ricke. Kevin attended St. John's Catholic Grade School in Arcadia, Iowa before graduating from Kuemper High School in 1976 and Western Iowa Community College thereafter.
On June 7, 1980, Kevin was united in marriage to Geri (Gallagher) Ricke. They were married at St. Ann's in Vail, Iowa. They are blessed with three beautiful children Rachel, Heather, and Ryan. Following their marriage, Kevin and Geri made their home in the Westside area where he began farming with his father and uncle Ralph Ricke.  Kevin proudly honored the passing of his father and uncle by organizing the Richard & Ralph Ricke Memorial Tractor Ride. In addition to farming, Kevin worked with Rotert's Construction and most recently with Kasperbauer Services.
Kevin had an infectious sense of humor and loved making people laugh. He enjoyed raising cattle, in particular the Limousin breed. He served as a member and was a leader in 4-H over many years. He especially enjoyed attending and competing in livestock shows with his children, other family members, and friends. No matter what he was doing, he would always find time to socialize with anyone who would listen. In his spare time, he enjoyed playing cards and following his favorite sports teams which included the Iowa State Cyclones, the Creighton Bluejays, and the Chicago Cubs.
Left to cherish his memory is his wife Geri and three children: Rachel (Justin Riha) Ricke; Heather (Christopher) Schall; and Ryan Ricke. Kevin was blessed with four grandchildren that he absolutely adored, Emery and Isabelle Riha and Carver and Hadley Schall. The four of which brought out his childlike nature.
He is also survived by his five brothers: Douglas (Lori); Thomas (Julie); Daniel; Keith (Darlene); and Lynn (Stacy); his sisters-in-law Cecelia Thelen; Mary (Russ) Wulf; Patty (Michael) Pudenz; Phyllis Poggensee and Therese (Mark) Smiley; his brothers-in-law Cornelius (Carol) Gallagher, Damian Gallagher, and Larry Nagl; his Aunt Esther Hausman, Aunt Sr. Emily Demuth and Uncle James Demuth; and his numerous nieces and nephews.
He was preceded in death by his parents Richard and Marietta Ricke and his in-laws Lawrence and Bernadette Gallagher, Lawrence Thelen and Margie Nagl. Grandparents George and Rose Ricke and Jacob and Emma Demuth.  Aunts Patricia Demuth, Berenice Wagner and Uncles Jerry Wagner, Clarence Hausman, and Ralph Ricke.