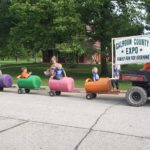 The 2022 Calhoun County Expo is set to begin later this week with events for everyone to enjoy. The expo kicks off Tuesday afternoon and runs through Sunday. Treasurer Hillaree Meyer says they have plenty of events the first night.
The expo takes place in Rockwell City, and Wednesday's events are slated to start early in the morning, with 4-H and Clover Kids check-in and judging beginning at 8:00 a.m. At 6:30 p.m. Wednesday, Barrel Racing in the area will take place, and the night is capped off with a glow run starting at 9:30 p.m. Meyer says they are trying to get a large crowd at this year's event.
She adds they have added new events this year to spark the public's interest.
Again, the expo gets kicked off on Tuesday and runs through Sunday. For a complete list of events, individuals can visit calhouncountyexpo.com.