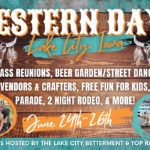 Western Days from the Top Rail Saddle Club and Lake City Betterment Association is back in Lake City starting today (Friday). Now in its 63rd year, Western Days has become one of Iowa's premier rodeos and draws crowds in the thousands. The fun begins at 7 p.m. tonight with a free pool party at the Lake City Aquatic Center for swimmers between seven and 19 years old. The beer garden and street dance kick-off at 8 p.m. in the square with music from Big Daddy Addy. Nancy Janssen, a Top Rail member, says it is full steam ahead once things start tonight (Friday).
Saturday's schedule begins at 8:30 a.m. with the Stewart Memorial Fun Run/Walk with vendors, crafters, and food trucks setting up in the square at 9 a.m. The Betterment Association is bringing in inflatable rides and face painters for the kids. The Western Days Parade rolls at 1:30 p.m. from Goins Park and travels down E. Main Street. Saturday night's rodeo begins at 7:30 p.m. at the rodeo grounds, with fireworks to follow the show. Janssen says fans who have not had their fill of rodeo contests should stick around after the display.
Sunday starts with community breakfast on the rodeo grounds at 9 a.m., followed by cowboy church at 11 a.m. Registration for the annual Western Days bags tournament opens at noon in Goins Park. The cost to enter is $20 per team, with the contest set to begin at 1:30 p.m. The final rodeo performance is slated for 6 p.m. Sunday with another full lineup. Janssen says people wanting to attend should plan to arrive early.
Rodeo admission is $15 for adults and $5 for children. The whole Western Days schedule can be found included below.
______