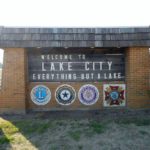 The Lake City Council met on Monday and brought up ordinance 397 regarding setting a curfew for minors. Lake City has been seeing vandalism occur over the last several months to stop signs, rocks being thrown in the fountain, and cement being thrown in the street. City Administrator, Eric Wood, says the damage has been occurring late at night, and they have a good idea of who is doing it.
The council made changes to the ordinance and will discuss it again at the next meeting. Wood adds they discussed different modifications to the ordinance.
Wood says they have seen a significant decrease in vandalism since a curfew was brought up. The next Lake City Council meeting is scheduled for Monday, July 5, at 6:00 p.m. in the City Hall Chambers.