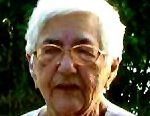 Shirley Mae Andreasen, age 94, of Carroll, IA, and formerly of Halbur, IA, passed away on Monday, June 13, 2022 at St. Anthony Nursing Home in Carroll.
     Funeral service will be held at 10:30 am the Dahn and Woodhouse Funeral Home in Carroll on Thursday, June 16, 2022 with Rev. Angelo Luis officiating.  Casket bearers will be Shirley's family members.  Burial will be in the Scranton Township Cemetery.
     Visitation will be held at the Dahn and Woodhouse Funeral Home in Carroll from 5 – 7 P.M. on Wednesday evening.  Additional visitation will be held at the funeral home on Thursday from 9:30 – 10:15 A.M. prior to the service.
     Funeral arrangements are under the direction of the Dahn and Woodhouse Funeral Home in Carroll and online condolences may be left for the family at www.dahnandwoodhouse.com
     Shirley was born on August 30, 1927 in Carroll, IA, and she was the daughter of Cassius and Pauline (Petersen) Cadden.  She grew up in the Scranton area and graduated from Scranton High School in 1945.  She was married to Eldred "Tiny" Andreasen on November 13, 1945 in Kansas.  The couple lived in various locations in Iowa and Nebraska before settling in Halbur in 1970.  Shirley was a housewife and became an LPN in her early 50's attending St. Anthony School of Nursing.  She worked at St. Anthony Regional Hospital and New Hope Village as a nurse.  Shirley enjoyed gardening, making fudge and dinner rolls from scratch, watching her bird feeders, and reading, but most of all being with her family.
     Shirley is survived by her children and their families: Laura Owen of Carroll, Mary Murphy of Perry, Paula Blaisdell (Harvey) of Perry, Marge Wright of Wetumpka, AL, and Lynne Donnelly (Patrick) of Hastings; fourteen grandchildren; many great-grandchildren and great-great grandchildren.  Shirley is also survived by her nieces, nephews, and other extended family members.
    Shirley was preceded in death her husband Eldred "Tiny" in 1984; her parents Cassius and Pauline Cadden; her father and mother-in-law Ethel (Buck) and Christian Andreasen; a brother Robert Cadden; and a sister Jean Sheesley (John); and three sons-in-law: Don Owen, Joe Murphy, and Gordon Wright.