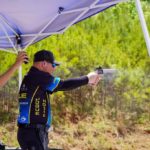 A local competitive shooter, Kolby Pavlock, found himself on the podium in at least three divisions after competing at the 2022 World Speed Shooting Championship earlier this month. The contest, hosted in Talladega, Ala. from April 27 through May 1, featured many of the top shooters from the U.S. and beyond. Competitive shooting is a growing sport but is still unfamiliar to many firearms enthusiasts. Pavlock explains how shooters are scored.
Contestants are split into divisions based on two main factors: firearm type and optics style. Pavlock competed in five divisions, Optic Sight Revolver (OSR), Rimfire Pistol Optics (RFPO), Rimfire Pistol Iron Sights (RFPI), Rimfire Rifle Optics (RFRO), and Open (OPN). Speed is the name of the game, and Pavlock says top shooters can finish strings in a flash.
He placed second in OSR with a total time of 97.59 seconds, just 3.5 seconds behind the first-place finisher. Pavlock snagged fourth in RFPO and fifth in RFPI. While pleased with where he placed, Pavlock says there is still room to be faster.
Pavlock is setting his sights on his next competition with Worlds now behind him. He has a regional match scheduled for mid-June in Indiana. Pavlock is originally from Idaho but relocated to Carroll in 2020 to join the Volquartsen Firearms product development team. Full results from the 2022 World Speed Shooting Championship can be found below.
______
https://practiscore.com/results/html/60f2224c-aef0-4cde-80da-75e77dceecd5
https://www.instagram.com/tv/Cc_uCfNgFwh/?utm_source=ig_web_copy_link