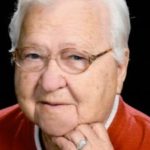 Norma Jean Winchester, age 92, of Ankeny, IA, formerly of Carroll, IA, passed away on Sunday, May 8, 2022 at Sunny View Care Center in Ankeny, IA.
     Funeral service will be held at 2:00 P.M. on Friday, May 13, 2022 at the United Methodist Church in Carroll with Rev. Terry Plocher officiating.  Casket bearers will be Greg Winchester, Paul Winchester, Matt Winchester, Josh Happe, Jason Happe, and Jake Happe.  Burial will be in the Carroll City Cemetery.
     Visitation will be held at the United Methodist Church in Carroll from 1 – 2 P.M. on Friday prior to the service.
     Funeral arrangements are under the direction of the Dahn and Woodhouse Funeral Home in Carroll and online condolences may be left for the family at www.dahnandwoodhouse.com
     Norma was born on July 29, 1929 in Silver City, Iowa and was the daughter of Arthur and Minnie (Gravett) Allensworth.  She grew up in Henderson, IA, where she graduated from high school in 1948.  Norma was married to Norman Winchester on July 29, 1949.  She was an active member of the Carroll United Methodist Church since 1960 and was a 50 year member of Eastern Star.  Norma owned and operated Norma's Fabric's for many years, which reflected her love of sewing and quilting.
     Those left to cherish her memory include her son Greg Winchester (Sandy) and her daughter Teri Happe, all of Ankeny, Iowa; five grandsons including Paul Winchester (Jenny) of Ankeny, Iowa, Matt Winchester of Ankeny, Iowa, Josh Happe (Gena) of Polk City, Iowa, Jason Happe (Shelby) of Hot Springs, South Dakota, and Jake Happe (Brenna) of Ankeny, Iowa; 10 great-grandchildren, two brothers Doug Allensworth (Carol) of Red Oak, Iowa, Craig Allensworth (Linda) of Carson, Iowa, as well as many nieces and nephews.
     She was preceded in death by her husband of 59 years, Norman, her parents Arthur and Minnie Allensworth, her son-in-law Jim Happe, her brother Vance Allensworth, and her sisters Betty Raney and Donna Loth.