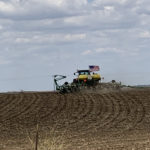 Senator Chuck Grassley is pushing to include the U.S. Department of Agriculture (USDA) on a federal board that monitors international investments in the United States to allow for additional scrutiny of foreign-owned food companies and farm land. Iowa law prohibits foreign entities from owning more than 320 acres of land, but Grassley says that limit does not exist at the federal level.
The bill he is referring to is the Agricultural Foreign Investment Disclosure Act (AFIDA), which was signed into law in the 1970s by President Jimmy Carter. The federal government estimates between two and three percent of U.S. farmland is currently foreign-owned, but Grassley warns there has been a sharp increase in recent years from international investors, particularly in China.
The Committee on Foreign Investment in the United States (CFIUS), which consists of representatives from the Departments of Defense, Commerce, Homeland Security and 13 others, reviews and must provide approval for international investments in the U.S. According to Grassley, the USDA is not included in CFIUS, but a bill he and other senators proposed last October would change that.
Senators, Joni Ernst, Debbie Stabenow and Jon Tester, have signed on to cosponsor this bill. It has been referred to the Senate Committee on Banking, Housing and Urban Affairs, but the committee has not taken in action since receiving it.