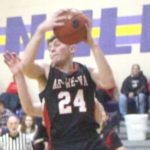 Boys Basketball Results for Thursday, January 13th 
Kuemper at Glenwood 
Kuemper 62
Glenwood 55
Kuemper was able to bounce back from a close two-point loss to Des Moines Christian earlier this week with a strong win over Glenwood on Thursday night, highlighted by strong performances in the first three quarters. 
The Knights got off on the right foot against the Rams in the first quarter. While Glenwood gave Kuemper some resistance, the Knights were able to get the five-point advantage and take a 17-12 lead following the first eight minutes of play. Both teams butted heads again in the second quarter, but again Kuemper grabbed the advantage and edged out the Rams to lead 28-20 going into halftime. The Knights had three impact players in this game, Michael Kasperbauer, Dennis Vonnahme, and Dawson Gifford, all of whom combined to score 42 of the team's points. Vonnahme was also a solid all-around player for Kuemper too, recording six boards, six assists, four steals, and two blocks. 
Kuemper started the second half like they did the first half, with a solid scoring performance with Glenwood riding their tail throughout. Kuemper held on to their lead going into the fourth quarter, now at 46-34. The Rams for the first time in this game was able to take over and outperform the Knights in the fourth quarter with a score of 21-16. Although they didn't win the fourth quarter, Kuemper still recorded their third best quarter against Glenwood and were able to secure a 62-55 win in the process. Kasperbauer led the team with 15 points on the night, with Vonnahme behind him with 14, and finally Dawson Gifford with 13 points. The Knights will improve to 7-7 overall on the season and 5-2 in the Hawkeye Ten Conference. Kuemper's four days away from the court will end when they travel on Tuesday, January 18th to take on Clarinda in a Hawkeye Ten showdown. 
Kuemper Stats
Nate Overmohle: 5 Points, 1 Assists, 2 Steals
Michael Kasperbauer: 15 Points, 2 Rebounds, 1 Assist, 1 Steal
Dennis Vonnahme: 14 Points, 6 Rebounds 6 Assists, 4 Steals, 2 Blocks
Dawson Gifford: 13 Points, 4 Rebounds, 2 Assists, 2 Steals
Cater Putney: 8 Points, 1 Steal, 1 Block
Carson Kanne: 7 Points, 4 Rebounds, 3 Assists, 1 Steal
Michael Pottebaum: 1 Rebound
Evan Adams: 5 Rebounds
Box Score
Teams         1      2     3     4     Final
KUE           17    11   18   16     62
GLEN         12      8   14   21     55
Coon Rapids Bayard at Woodward Granger
Coon Rapids Bayard 60
Woodward Granger 33
Coon Rapids Bayard was able to get the sweep of their competition this week, rounding out their contests with a win over Woodward Granger Thursday night. 
The Crusaders had a very good start in the first half where they were able to put up 20 points in the first quarter alone and take the 20-11 lead. The Hawks stuck with Coon Rapids Bayard a bit better in the second quarter where they outscored the Crusaders 13-11, but it was Coon Rapids Bayard who held the advantage going into halftime at 31-24. A big force offensively for Coon Rapids Bayard in the first half was Gabe Obert. Crusaders Head Coach Cory Meyer says Obert attacked the basket well and put stress on the Hawk's defense in the first half. 
The Crusaders kept the pressure on offensively in the second half and started off with a 13-2 third quarter and a better fourth quarter, outpacing the Hawks 16-7. Coach Meyer says Lance Clayburg had a big second half performance as his teammates were able to find him consistently inside the paint. After a massive second half performance and strong first quarter scoring effort, the Crusaders came away with a 60-33 victory. 
Obert ended with a team high 21 points, Oswald contributed well with 18 points on the night along with 4 rebounds, 5 assists, 4 steals, and a block. Clayburg's second half performance netted him a 13-point, 11 rebound double-double. The Crusaders will improve to 6-5 overall on the season. Coon Rapids Bayard's road game against Paton Churdan on Friday, January 14th has been postponed to Tuesday, February 8th. The Crusader's next contest will be a good challenge as they take on Earlham on Monday, January 17th at home. 
Coon Rapids Bayard Stats
Easton Hays: 2 Rebounds, 4 Assists, 2 Steals, 1 Block
Gabe Obert: 21 Points, 4 Rebounds, 1 Assist, 1 Steal
Tanner Oswald: 18 Points, 4 Rebounds, 5 Assists, 4 Steals, 1 Block
Raiden Doty: 6 Points, 7 Rebount, 3 Assists, 1 Steal
Lance Clayburg: 13 Points, 11 Rebounds, 4 Assists, 2 Steals, 1 Block
Corey Heithoff: 1 Rebound
Parker Hays: 1 Rebound
Wyatt Oswald: 1 Rebound
Cade Behrens: 2 Points
Box Score
Teams         1      2     3     4     Final
CRB           20    11   13   16     60
WG            11    13     2     7     33
Ar-We-Va at LoMa
Ar-We-Va 37
LoMa 35
Ar-We-Va was able to hold off LoMa Thursday night thanks to a clutch block at the buzzer to grab their third win of the season.
The Rockets came to this game with determination as they played well in the first half. The Rockets got up early against the Panther with a 13-5 start in the first quarter and stayed strong defensively to keep LoMa to single digit points. While LoMa was able to gain some traction with Ar-We-Va's lead, the Rockets still added good points to their total with an 11-point second quarter to take the 24-14 lead at halftime. Conner Kirsch had the best night among the Rocket players, grabbing three three-pointers in the first half and ending his night with 15 points and four rebounds. 
Ar-We-Va hit a bit of a slump in the second half, but they started off leading by as much as 16 points in the middle part of the third quarter and kept their lead at 33-25 going into the fourth quarter. The Panthers used the lower scoring from Ar-We-Va to pounce and almost take the lead. Ar-We-Va Head Coach Matt Wilken says his guys were in survival mode in the fourth quarter instead of attack mode. Led 37-31 with four minutes left in the fourth, but LoMa cut that lead down and had a chance to win it or tie it. The Panthers went for the shot, but Conner Kirsch came in from out of nowhere with a huge block to seal the win for Ar-We-Va by a close margin of 37-35. 
The Rockets will improve to 3-8 overall on the season. Ar-We-Va's home game against CAM-Anita on Friday, January 14th has been postponed to Tuesday, February 8th. Their next contest will see them at home against Exira-EHK on Tuesday, January 18th. 
Ar-We-Va Stats
Conner Kirsch: 15 Points, 4 Rebounds, 1 Assist, 1 Steal, 2 Blocks
Will Ragaller: 7 Points, 4 Rebounds, 3 Assists, 2 Steals
Braeden Kirsch: 5 Points, 5 Rebounds, 1 Steal
Emmett Neumann: 4 Points, 6 Rebounds, 1 Assist, 1 Block
Kyelar Cleveland: 2 Points
Damon Ehlers: 2 Points, 1 Rebounds
Cooper Kock: 2 Points, 3 Rebounds, 2 Blocks
Box Score
Teams         1      2     3     4     Final
AWV          13   11     9     4     37
LOMA         5      9   11   10     35
East Sac at Cherokee Washington
Cherokee Washington 52
East Sac 43
East Sac's first half performance against Cherokee Washington gave them a good cushion going into the second half, but the Braves rode a huge momentum shift to a win Thursday night. 
That Raider's first half push started with a strong 16-8 performance in the first quarter over the Braves. East Sac didn't let down in the second quarter as they'd go 14-10 and take a good 30-18 lead into halftime. The biggest performers from this game for East Sac were Tyler Schmitt and Luke Wright, who finished with similar statlines, Schmitt with 10 points and nine rebounds, while Wright had 10 points and six rebounds. The first half start for East Sac was quickly erased in the second half as the Braved quickly grabbed the momentum, and didn't let go. They went 21-6 in the third quarter to take over the lead at 39-36. East Sac fought hard in the fourth quarter, but the Braves eventually took home the 52-43 win. The Raiders will fall to 3-7 overall on the season. 
East Sac's game against Storm Lake St. Mary's on Friday, January 14th has been postponed to Monday, January 24th. The Raiders will return from a four day break from action with a home game against West Bend Mallard on Tuesday, January 18th. 
East Sac Stats
Weston Drost: 2 Points, 3 Rebounds, 2 Assists
Aden Vondrak: 9 Points, 4 Rebounds, 2 Assists, 2 Steals
Tyler Schmitt: 10 Points, 9 Rebounds, 3 Assists, 2 Steals
Cale Niehaus: 3 Points, 1 Assist, 1 Steal
Luke Wright: 10 Points, 6 Rebounds, 1 Assist, 1 Steal
Caleb Eichorn: 3 Points, 2 Rebounds, 1 Steal
Tony Clair: 6 Points, 4 Rebounds
Box Score
Teams         1      2     3     4     Final
ESC            16    14     6     7     43
CW              8    10    21   13    52