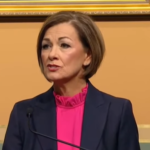 Gov. Kim Reynolds announced during her 2022 Condition of the State Address last night (Tuesday) Republicans in the Iowa Legislature would be pursuing substantial tax cuts for Iowans, including lowering the state income tax to a flat four percent. Reynolds outlines the proposed plan, which would be implemented in phases.
With a $2 billion surplus in the state's coffers, Reynolds says Iowa has been over-taxing its residents for years. She acknowledges the change will significantly impact the state's yearly revenue, but she is confident that money would be put to better us by Iowans.
Reynolds' expansive plan aims to eliminate state tax on retirement income.
It will also remove state taxes for income generated through cash rent on ag land.
Reynolds say her and fellow Republicans' goal is to make Iowa the destination state for families, workers and retirees with these tax changes.
Opponents of Reynolds' tax plan, including House Minority Leader, Jennifer Konfrst, say flat taxes overly benefit the wealthy and the budget surplus would be better spent on education, infrastructure and other projects the benefit Iowans.