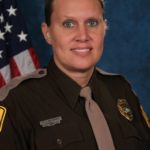 Between Nov. 15 and Nov. 28, 2020, there were 13 people who lost their lives on Iowa's roadways. Over the Thanksgiving holiday, there were three fatalities. In the ongoing effort to stem the rise of fatal accidents across the state, the Governor's Traffic Safety Bureau (GTSB) is once again spearheading a special traffic enforcement program (sTEP) that covers this holiday weekend. Public Resource Officer and a Trooper with the Iowa State Patrol, Shelby McCreedy, says there was a goal set early this year of trying to reduce fatalities to under 300. Unfortunately, we have already surpassed that mark.
Traffic trends went down during the pandemic, but when people returned to the roadways, it seems that bad habits followed. McCreedy says it resulted in a dramatic spike in incidents over about a four-month span. Theoretically she could say that had there not been such an emphasis on safe driving this year, those numbers could be a lot higher. With a return to more normal activities this year, predictions are that there will be record numbers of travelers on the roadways over the next five days.
There is an additional enforcement presence on the roadways this weekend.
It is really pretty simple McCreedy says if you think of "Always Being Careful," the ABC of driving. The reality is that extra efforts are needed when you get behind the wheel.
Distracted driving is the fastest growing accident causation, responsible for 945 accidents and four deaths last year. The majority of accidents in 2020, 1,383, involved an impaired driver, even though people know they should not get behind the wheel when under the influence of alcohol or drugs. There were 51 deaths in Iowa due to impaired driving alone. The third leading causation of fatalities is speed, with 669 accidents and 30 deaths in 2020. McCreedy adds the law enforcement officers on the roadways would rather be bored than have to respond to a serious or fatal accident.
Their goal, McCreedy says, is to help drivers establish and adhere to the behaviors that save lives. They don't just want you to be doing it because there is an increased presence of law enforcement on the roadways, they want this to become a habit that follows a person no matter what they drive and where they go and they are all hoping everyone gets safely to and from their Thanksgiving celebrations.