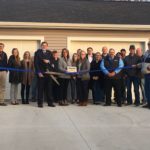 City, county and regional leaders gathered in Glidden on Monday to celebrate the completion of two duplexes built to provide affordable housing to the community's older residents. The project was a multi-agency effort led by the City of Glidden and Region XII Council of Governments. According to Executive Director, Rick Hunsaker, this is Region XII's second foray into housing development. He says the four units will serve as a valuable asset to the community and its older population.
Each two-bedroom unit is specifically designed with elderly residents in mind. The single-level floor plans include an attached garage, walk-in shower and other ease-of-access features. Kirsch Construction of Carroll was the primary contractor with nearly a dozen subcontractors contributing to the project. Hunsaker says it was great to have so many local businesses involved.
Glidden City Administrator, Brooke Peterson, says they are excited to have these new housing opportunities available in town, and the hope is they will then open up existing homes for young families.
Region XII will serve as the landlord for the new tenants, who are scheduled to move in at the beginning of December. To be eligible, residents must have been at least 62 years old with an income at or below 80 percent of Carroll County's annual median income. Region XII also manages a similar housing initiative in Wall Lake, and Hunsaker says they are actively exploring other potential projects within their service area. Photos of the units' interior can be found included below.