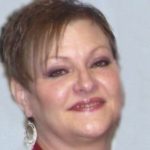 Deborah Ellen Luetje, age 64, of rural Glidden, IA, passed away on Tuesday, October 5, 2021 at her home near Glidden.
Funeral service will be held at 10:30 A.M. on Tuesday, October 12, 2021 at Carroll First Assembly of God Church with Pastor Dave Hagen officiating.  Casket bearers will be Michael Michaelson, Noah Michaelson, Cody Michaelson, Virgil Lamaak, James Gorby, and Pastor D.J. Perkey.  Honorary casket bearer will be her son Jacob Luetje.  Military honors will be conducted at Carroll First by the Glidden American Legion.  Burial will be in the Merle Hay Memorial Cemetery near Glidden.
Visitation will be held at the Dahn and Woodhouse Funeral Home in Carroll from 5 – 7 P.M. on Monday.  The casket will be moved to Carroll First at 9:30 A.M. on Tuesday where visitation will resume until 10:15 A.M. 
Funeral arrangements are under the direction of the Dahn and Woodhouse Funeral Home in Carroll and online condolences may be left for the family at www.dahnandwoodhouse.com
Deb was born on September 20, 1957 in Huntington, WV, and she was the daughter of Larry and Mary (Eagleston) Gorby.  She grew up in many places with her father's service in the United States Navy.  She enlisted in the United States Marine Corps in June of 1976 and served three years.  Following her military service she moved to Glidden and worked for the Department of Motor Vehicles.  She was married to Jay Luetje in October of 1986.  The couple made their home in Carroll and Deb worked at for the Department of Human Services.  They moved to a farm near Westside where she raised her children and was a stay at home mom.  The couple later divorced and she worked for Market Link and American Home Shield where she was currently employed.  Deb was a devout Christian never afraid to share her testimony of how she was saved.  She helped countless people come to the Lord and live a better life.  She was an active member of Carroll First where she was a prayer partner, helped to fill the pulpit, and assisted with communion.  Deb was a founder of "The Way"; a Bible based recovery program in Carroll.  She was also instrumental in developing "The Women of The Well" at the Iowa Correctional Institution for Women in Mitchellville.  Deb enjoyed crocheting, cross stich, doing her nails on Saturday night, attending Christian concerts, and her cats.  She loved and adored her children and grandchildren and spending every moment with them she could.
Deb is survived by her daughter Rebecca Lynn Luetje of North Sioux City, SD; son Jacob Luetje of Carroll; son Jerrod Luetje (Katie) of Ogden; her mother Mary Van Horn and step-father Bob Van Horn of Glidden; her grandchildren: Rose Marie and Gwyneth; two brothers: James Gorby (Shari Winker) of Lake View and Michael Michaelson (Jolie) of Greeley, CO; and several nieces, nephews, and cousins.
Deb was preceded in death by her father Larry Gorby.