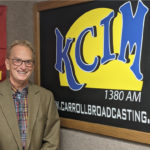 A familiar face in the Carroll business community and county government is announcing a bid for a first term as Mayor. Mark E. Beardmore says his decision to place his name on the Nov. 2 ballot came about after witnessing a disturbing recent trend and seeing a lack of choices for voters.
Beardmore has faced some serious, life-altering health issues and is coming out the other side, energized and ready to return to serving the people of Carroll. He is also among many residents saying their voices and opinions are not heard.
Beardmore has lived in Carroll for 37 years and served as a County Supervisor from 2009 to 2016. He says one of the things he has been most proud of during that tenure is a reduction in taxes for six of the eight years.
He says as mayor, he won't be able to cast a vote, but he would lead the council in exploring options that protect the taxpayer from bearing an inordinate amount of the burden. He says there are two ways to lower taxation; to reduce spending or increase the tax base and he is a proponent of the latter. This, he says, spreads that burden out. He is also keeping an eye to a future that will see the elimination of a statewide cushion, the property tax backfill.
Another goal in this leadership role is to repair a relationship that has had city and county government entities at odds for years before he served.
And what Beardmore wants every voter in Carroll to know, is that he has no agenda and nothing to prove. He just wants to get back to working for the community he has called home for nearly four decades.
Beardmore was the owner of Beardmore Chevrolet for 20 years and then became Director of Business Development and Customer Advocate for Future Health, Inc. He was elected to their board in 2008. In 2010, he joined Wittrock Motor Company, where he served as General Manager through 2019. He and his wife, Pam, have been married for 31 years and have two children: Dr. Megan Beardmore of Los Angeles, Calif.; and Emily Ann Beardmore who works at St. Anthony Regional Hospital and the Carroll Hy-Vee. More in-depth answers to Beardmore's questions can be found by clicking on the arrows below.
Beardmore on why he is running:
Beardmore on personal experiences with city leadership:
Beardmore on taxation as a supervisor:
Beardmore on new valuations:
Beardmore on elimination of backfill:
Beardmore on city/county relationship:
Beardmore says he has nothing to prove and only wants to serve: