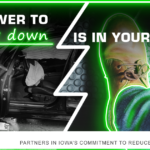 The Iowa State Patrol has made a commitment to an effort aimed at reducing fatalities on the state's roadways and is coming back strong with another enforcement program on the heels of the Labor Day weekend. The Iowa statewide Traffic Fatality Reduction Task Force will be focusing on excessive speeding during a special enforcement action tomorrow (Thursday), Sept. 16. District 4 Trooper and Public Resource Officer, Shelby McCreedy, says Iowa sees an unusually high number of fatal crashes this time of the year.
You can expect to see an increased presence of law enforcement on roadways Thursday as they work to identify and stop bad driving habits that contribute to severe or fatal accidents. The task force reports a significant increase in dangerously high speeds since the start of the pandemic, which puts everyone on the road in danger. According to McCreedy, speeding violations for motorists traveling over 100 mph are becoming disturbingly common.
Recent data released from the Iowa State Patrol, which tracked speeding violations from Jan 1 through Dec. 31 of 2020, shows a 74 percent increase in drivers exceeding the speed limit by 25 miles per hour or more. Even more alarming are patterns in the data identifying that a total of 1,497 were cited for speeds that exceeded 100 miles per hour, a 108-percent increase compared to the four-year average. Troopers are now routinely clocking speeds over 120 mph on roads throughout the state. McCreedy says there are many factors that contribute to fatal crashes, but speed is the number one indicator.
Although the eventual goal set by the task force is for zero fatalities, the incremental goal for 2021 is under 300, which would be down from 338 in 2020. If achieved, this would be the first time fatalities were under 300 since 1925. As of Tuesday, there have been 235 deaths on Iowa's roadways; 10 more than this same time last year.