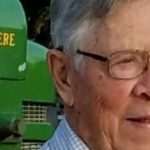 Kenneth Huegerich, age 85, of Mt. Carmel, died Sunday, September 12, 2021, at the University of Iowa Hospital in Iowa City, Iowa.
Mass of the Christian Burial will be celebrated at 10:30 a.m., Saturday, September 18, 2021, at Our Lady of Mt. Carmel Church in Mt. Carmel. The Celebrant will be Fr. Timothy Friedrichsen.  Music will be by Nancy Lemker and the parish choir. Lector for the Funeral Mass will be Becky Halbur. Gift Bearers will be Alex Huegerich and Kali Huegerich. Casket Bearers will be Alex Huegerich, Todd Reese, Mike Huegerich, Tim Huegerich, Steve Huegerich, Matt Huegerich, and Justin Huegerich, Chad Ross, Lonnie Kastle, Buck Kastle. Burial will be in the parish cemetery.  Visitation will be held from 5-7 p.m. on Friday at the Sharp Funeral Home in Carroll. Additional visitation will be held from 9:30-10:15 a.m. on Saturday at the church.  Funeral arrangements are under the guidance of the Sharp Funeral Home in Carroll and online condolences may be left for Kenneth's family at www.sharpfuneral.com.
Born on August 27, 1936, in Carroll, Iowa, Kenneth was the son of Henry and Genevieve (Grossman) Huegerich. He attended Holy Family School in Lidderdale and graduated in 1955 from Carroll High School. On June 13, 1959, Kenneth was united in marriage to Judith Bohnenkamp at St. Bernard's Catholic Church in Breda. Kenny and Judy raised their family on a farm near Lidderdale. They later moved to Mt. Carmel and were currently living at Garden View in Carroll. Kenny was engaged in grain and livestock farming, drove semi for Wenck Transportation, and was employed at Pella for over 20 years. He was an avid collector of (mostly John Deere) antique tractors and would showcase his restoration work at the many tractor rides and parades over the years. He was a member of the Midwest Iowa Old Iron Club, Knights of Columbus, former member of Holy Family Church in Lidderdale and Our Lady of Mt. Carmel Church.
Kenny is survived by his wife Judy of Carroll; his children: Joni (Todd) Reese of St. Petersburg, FL, Jeff Huegerich of Mt. Carmel, and Scott Huegerich of St. Petersburg, FL; his grandchildren:  Alex Huegerich and Kali Huegerich; special family member Janine Harms; and furry friend Winston; his siblings: Dale (Mary Ann) Huegerich of Exira, Margaret Grant of Lidderdale, Karen Brigman of Pinehurst, NC, and Sandy Gardels of Dover, DE; his brothers-in-law and sisters-in-law: Daru Ross of Carroll, Jeanne Schumacher of Lake City and Carolyn (Jerry) Nieland of Auburn; as well as many nieces, nephews, and other extended relatives.
Kenny was preceded in death by his parents; his brother, Dennis Huegerich; and his sisters:  Eileen Ross and Janis Kastle, and his brothers-in-law Gene Brigman, and Bill Schumacher.