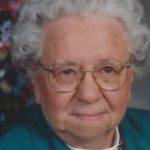 Darlene Viola Antisdel, age 95, of Glidden, IA, passed away peacefully on Monday, September 13, 2021 at Regency Park in Carroll surrounded by her family.
     Funeral service will be held at 2:00 P.M. on Friday, September 17, 2021 at the Dahn and Woodhouse Funeral Home in Glidden with Rev. Chaun Bergmeier of Pleasant Ridge Community Church officiating.  Casket bearers will be Tyson Antisdel, Tyler Pemble, Dan Huegerich, Jace Huegerich, Max Antisdel, and Bo Pemble.  Burial will be in the Merle Hay Memorial Cemetery near Glidden.
     Friends may call at the Dahn and Woodhouse Funeral Home in Glidden from 5 – 7 P.M. on Thursday evening.  Additional visitation will be held at the funeral from 1 – 1:45 P.M. on Friday prior to the service.
     Funeral arrangements are under the direction of the Dahn and Woodhouse Funeral Home in Glidden and online condolences may be left for the family at www.dahnandwoodhouse.com
     Darlene was born on November 15, 1925 on her family's farm south of Ralston.  She was the daughter of Otis and Inez (Byerly) Knight.  She grew up on the farm and attended country school as a girl and graduated from Coon Rapids High School in 1942.  Following her schooling she moved to Ohio and worked as a bookkeeper.  She moved to Portland, OR, with her job, and this is where she met her future husband Max Antisdel.  They were married on July 29, 1950 in Vancouver, WA.  The couple lived in Portland until August of 1954 when they moved back to Glidden to farm with Darlene's father.  Darlene worked various jobs over the years including Garst and Thomas Seed Company, Farm and Home in Coon Rapids and Scranton Manufacturing.  She was active in the Richland 4-H Club for 12 years.  In the early 1970's, Darlene was hired to be the personal companion of Mrs. Peter Kewitt and she traveled to Palm Springs, CA, and Sheridan, WY with their family.  Upon returning to Glidden, she worked at General Electric, Macke Motors, and United Bank of Iowa. In retirement, Darlene did volunteer work with Congregate Meals, and the Carroll Geological Society mapping local cemeteries.  Darlene was an expert seamstress, she enjoyed cooking, and she adored her grandchildren and great-grandchildren.  In her younger years Darlene took flying lessons and completed a solo flight.  In 2016, Darlene and her family attended the Iowa State Fair to receive a Century Farm award.
     Darlene is survived by her children and their families: daughter Robin Antisdel of Omaha and son Scott Antisdel (Joyce) of Glidden; three grandchildren: Tyson Antisdel (Marcie) of Glidden, Bridget Huegerich (Dan) of Dallas Center, and Holly Pemble (Tyler) of Glidden; and eight great-grandchildren: Brailey, Aubree, Zoey, Jace, Max, Bo, Autumn, and Brooklyn.
     Darlene was preceded in death by her husband Max in 1992; her parents Otis and Inez Knight; her father and mother-in-law Martha and Clyde Antisdel; two brothers Doyle and Dean Knight; and a daughter in infancy.