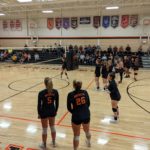 Volleyball Results for Monday, September 13th 
Orient Macksburg At Paton Churdan 
Paton Churdan 3
Orient Macksburg 1
25-21, 21-25, 25-17, 25-21
Paton Churdan hosted the Bulldogs for their home opener and just their 3rd match of the season. The young and inexperienced Rockets made some defensive adjustments after dropping both ends of a triangular at Ar-We-Va in their opener and Head Coach Makayla Sparr was happy with how the kids adjusted. The  Rockets were able to battle back from deficits in sets 1 and 4 to pick up their first win of the season. Their serve was a big part of their attack and Paige Teeples kept swinging to pace the offense. The win moves the Rockets to 1-2.
Paton Churdan stated well and led the first set until Carter Osborn served the Bulldogs on a 6-0 giving them a 11-8 lead. Orient Macksburg built the lead to 15-9 but Paige Teeples helped spark the Rockets who battled back to cut it to 15-13. They kept chipping away and tied the set at 18 and took the lead for good at 19-18. Orient Macksburg tied the set at 20 but Megan Palmer ended the set with an ace to the back right corner.
Things looked good for Paton Churdan to start set 2 but they struggled getting their serves in and continued to struggle with serve receive, often times swinging out of system. The Bulldogs went ahead 3-2 and never trailed again. Their lead grew to 15-8 before Paton Churdan chipped away, cutting it to two twice but they missed serves both times and the Bulldogs held on to win 25-21.
The Rockets built a quick 7-2 edge in set 3 but Kasyn Shinn served 3 straight points to tie the set at 9. Paton Churdan didn't lose the lead and extended the lead to 5 behind a service run by Emma Stream that included 3 straight aces. Carmyn Paup put the match out of reach, serving the Rockets to a 24-17 win. Paup picked up an assist at Paige Teeples had a kill to end the set, giving the Rockets a 2-1 lead.
For the first time on the night Paton Churdan started slowly in set 4 and trailed 6-0. Taryn Baugh started a run for the Rockets and they tied the match at 7 and took a brief lead at 8-7. They Bulldogs answered and went back up 13-9. Enter Emma Stream again to the Rocket service line. Orient Macksburg led 16-13 went Stream started to serve. She erased the deficit and led them to a 23-16 lead. Orient Macksburg did score 4 in a row to cut it to 24-21 but Paige Teeples cut a  nice cross court shot to end the match.
Teeples led the Rockets at the net with 14 kills, adding 6 aces. Megan Palmer finished with 4 kills and Emma Stream had 3 kills. Stream had a team high 11 aces as the Rockets finished with 26 aces. Carmyn Paup added 6 aces and Taryn Baugh had 14 assists.
The Rockets are off until next Tuesday when they host CAM Anita.
Paton Churdan Stats- Unofficial 
Taryn Baugh 1 Kill, 14 Assists, Ace
Carmyn Paup 2 Assists, 6 Aces
Emma Stream 3 Kills, 11 Aces
Hannah Behrens 2 Kills, Assist, Ace
Megan Palmer 4 Kills, Assist, Ace
Paige Teeples 14 Kills, 6 Aces
Ar-We-Va at MVAO-COU
MVAO-COU 3
Ar-We-Va 2
25-23, 25-20, 22-25, 14-25, 19-17
Ar-We-Va battled all night long, but fell shy of the win against MVAO-COU Monday night. 
The Rockets from set one were battling as they started off the set up 1-0, but got behind 8-3, and eventually 20-10. The Rockets had some lucky breaks as MVAO-COU had a handful of lift calls and bad attacks into the net, allowing Ar-We-Va to tie the game at 23-23. The Rams took back control to lead 24-23, and eventually won the set 25-23. Set two for the Rockets went the same way, they got up 2-0 and MVAO-COU started to get better serves and attacks. The Rams led 12-6 at one point, until the Rockets went on a 7-1 run to tie the game at 13-13. The biggest attacker for the Rockets was Kora Obrecht, who ended the contest with 13 total kills and two aces, aided by Delaney Schurke who had 24 assists on the night. The Rams tied up the set again at 15-15 and started to take over. Ar-We-Va got within three points of tying the set again down 23-20, but the Rams got the better of the Rockets to take set two 25-20. 
Although down two sets to nothing, Ar-We-Va kept their spirits high and battled in set three. MVAO-COU started set three by getting up 7-1. Ar-We-Va continued to chase the lead all throughout the set, until finally they broke through by tying the set at 14-14 and again at 20-20, before taking the set 25-22. Maggie Ragaller had a strong performance in the back row, getting clutch digs and being a strong attacker with her five kills. Ar-We-Va rode their momentum into set four as they took a 3-2 lead and never looked back. MVAO-COU got within four points of tying the set, but Ar-We-Va didn't allow them to do so, eventually taking the set 25-14 and forcing a fifth set. Set five had 10 ties in total with both teams getting good kills and costly errors. Ar-We-Va, down 18-17, looked to tie the set once again, but an error in the front row was what it took for MVAO-COU to take it over the Rockets 19-17. 
The Rockets continue their busy week with another road game against West Harrison on Tuesday, September 14th. 
Ar-We-Va Stats
Jamie Hausman: 6 Kills, 6 Aces
Delaney Schurke: 3 Aces, 24 Assists
Kora Obrecht: 13 Kills, 2 Aces
OIivia Charlot: Ace
Maggie Ragaller: 5 Kills, 2 Aces
Timberlen Koch: Ace
Sophie Jackson: 3 Aces
Sammie Hinners: 6 Kills
Glidden Ralston At Madrid Quad
Match Scores
Glidden Ralston 2
Collins Maxwell 0
25-19, 25-5
Glidden Ralston 2
Baxter 1
23-25, 25-15, 15-10
Glidden Ralston 2
Madrid 0
25-19, 26-24
It was  a good night for  the Wildcats who hadn't played in a match in 11 days. The Wildcats won all three matches and went 6-1 in sets. Glidden Ralston dropped their first set to Baxter by 2 points but then came storming back to win set two by 10 points and took the decisive 3rd set by 5 points. The closest set the rest of the evening was a 26-24 win against Madrid in set two. The Wildcats dominated Collins Maxwell in the 2nd set winning 25-5.
Serving was a strength against Baxter and Collins Maxwell as the team finished with 12 aces against Baxter and 10 in the win over Collins Maxwell. Ashlynn Tigges was outstanding at the service line against Baxter with 6 aces, she also led them with 3 aces in the win over Collins Maxwell. Paige Klocke, Alicen Dreessen, Lauren Hulsing and Vanessa Koehler swung well at the net. Klocke and Koehler each had 6 kills against Baxter, Dreessen finished with 5 in that match and against Madrid which led the team. Alicen Dreessen and Paige Klocke had team high 4 kills vs Collins Maxwell. Glidden Ralston had eight different players finish with a kill. Tiela Janssen continues to grow in the Libero role and had an outstanding night leading the team in all matches in digs with 17 against Baxter, 11 vs Madrid and 6 in the win over Collins Maxwell. Addy Boell was in double digits in assists in all three matches with her best match the 3 set win over Baxter where she had 20 assists. Boell added 12 vs Collins Maxwell and 10 in the win over Madrid.
Glidden Ralston improved to 5-1 on the season and will be back in action Tuesday night at home against Woodbine on KIKD 106.7.
Glidden Ralston Stats Vs Collins Maxwell 
Alicen Dreesen 4 Kills, Dig, Block
Ashlynn Tigges 1 Kill, 2 Assists, Dig, 3 Aces
Brenna Schon 1 Kill,  4 Dig, 2 Aces
Elizabeth Lloyd 1 Kill, Dig, Block
Lauren Hulsing 2 Kills, Dig, Block, Ace
Paige Klocke 4 Kills
Vanessa Koehler 1 Kill
Addy Boell 12 Assists, 3 Digs, Block,  2 Aces
Lauren Klocke 2 Digs
Morgan Tuel 3 Digs
Summer Toms 2 Digs
Tiela Janssen 6 Digs, Ace
Glidden Ralston Stats Vs Baxter 
Addy Boell 2 Kills, 20 Assists,  3 Digs, Ace
Alicen Dreessen 5 Kills,  3 Digs
Lauren Hulsing 3 Kills
Paige Klocke 6 Kills, 5 Digs
Vanessa Koehler 6 Kills, Dig
Tiela Janssen 2 Assists, 17 Digs, 3 Aces
Ashlynn Tigges 8 Digs, 6 Aces
Summer Toms 5 Digs, Ace
Brenna Schon  1 Ace
Glidden Ralston Stats Vs Madrid 
Addy Boell 1 Kill, 10 Assists, 2 Digs, 2 Aces
Alicen Dreessen 2 Kills, Dig
Lauren Hulsing 5 Kills, 2 Digs, Block
Paige Klocke 2 Kills, Dig, Ace
Vanessa Koehler 2 Kills
Tiela Janssen 2 Assists, 11 Digs, Ace
Ashlynn Tigges 6 Digs, Ace
Elizabeth Lloyd 1 Dig
Summer Toms 3 Digs