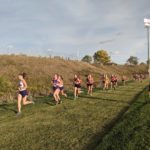 East Sac, Kuemper and South Central Calhoun At Tim Thomas Classic At Holstein 
Kuemper girls had a nice showing finishing in 10th place overall with 258 points with three runners finishing in the top 50. South Central Calhoun was 13th with 357 points and had one runner in the top 50. The field was strong as always on a warm and sunny morning.
Marie Dea of Kuemper led the area girls with another strong run in her second meet of the season. Dea finished 25th overall with her teammate Julia Kanne taking 33rd in her third meet of the season. Siena Argarin was 42nd for the Knights. Breanne Patterson led the Titans in 41st place.
Class A Results 
Team Standings
MOC Floyd Valley 54
Bishop Heelan 63
Cherokee 95
Sioux Center 113
Sergeant Bluff Luton 128
Okoboji 180
Sioux City East 196
Sioux City North 205
Pocahontas Area 208
Kuemper 258
West Lyon 300
Woodbury Central/Kingsley Pierson 302
South Central Calhoun 357
Emmetsburg 370
Kuemper Results
25th Marie Dea             22:54.58
33rd Julia Kanne         23:22.16
42nd Siena Argarin      24:01.96
78th Kyra Wolterman  26:42.75
80th Grace Hoffman     26:47.74
84th Samantha Tidgren   27:29.88
South Central Calhoun Results
41st Breanne Patterson   23:52.55
72nd Adlen Wheelock       26:19.57
77th Alexia Nelson            26:36.76
81st Evenlyn Kramer       26:50.63
86th Samantha Potts       28:29.83
91st McKinley Janssen       29:56.04
Girls Class B Results
Emma Schroeder led the East Sac girls as she finished 14th overall. She was joined by Kortni Thomsen in the top 50 as Thomsen took 44th place. The Raiders finished in 11th place overall.
Team Standings
LoMa 44
St Edmond 84
Manson NW Webster 126
Alta Aurelia 158
Sioux Central 160
Lawton Bronson 186
Boyer Valley 189
Ogden 198
Ridge View 254
MVAO-COU 257
East Sac 260
South O'Brien 275
Gehlen Catholic 286
Westwood 295
East Sac Results 
14th Emma Schroeder    22:45.85
44th Kortni Thomsen       25:04.03
64th Amalie Kroyer        27:24.19
84th Cora Mahler           32:27.00
86th Rachel King             33:30.35
Audubon and IKM-Manning At Greene County Invite
IKM-Manning edged Audubon in the team standings by 2 points as the two teams finish 4th and 5th respectively. The Wolves had five runners finish in the top 25 and four in the top 20. Audubon was really strong up top with three runners in the top 10 and two runners in the top 5.
Grace Slater of Audubon led all local runners in 2nd place behind Lola Menlick of Denison Schleswig. Slater ran a 21:49 while her teammate Stefi Beisswenger ran strong again, finishing 5th in 22:33. Hannah Thygesen gave the Wheelers their third top 10 runner finishing in 10th place. Thygesen ran a 24:06. Emily Albertsen gave the Wolves their only top 10 finish, taking 7th place in 23:07. The Wolves were very balanced behind her as they ran in a group with Raegan Maylum in 15th place in 25:16, Maddy Snyder 16th place in 26:21 and Kaitlynn Spoelstra 17th in 26:22. Julianna Stribe nearly gave the Wolves five runners in the top 20 as she finished 21st.
Team Standings
West Central Valley 65
Denison Schleswig 71
Perry 78
IKM-Manning 82
Audubon 84
SE Valley 154
IKM-Manning Results
7th Emily Albertsen      23:07
15th Raegan Maylum    25:16
16th Maddy Snyder       26:21
17th Kaitlynn Spoelstra   26:22
21st Julianna Stribe       26:42
33rd McKenna Mullen      32:04
Audubon Results
2nd Grace Slater          21:49
5th Stefi Beisswenger  22:33
10th Hannah Thygesen 24:06
31st Autumn Zaiger       30:36
38th Madison Burr       34:69