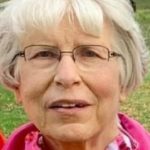 A Celebration of Life will be held from 12:00 – 3:00 p.m, Sunday, September 12, 2021, at the Faith Lutheran Church in Early, IA.  A meal will be served with meal prayer at 12:00 p.m., and a service with sharing of memories at 1:00 p.m.
Karleen Sanders, age 82 of Early, IA, passed away on Friday, November 13, 2020, of Covid-19, at Buena Vista Regional Medical Center in Storm Lake, IA.
Karleen Kay Christiansen was born in Sac City, IA, on September 17, 1938, to parents Glen and Emma (Putbrese) Christiansen, the oldest of three daughters. She attended country school in rural Sac County, IA, and later attended Delaware Consolidated Township School in Nemaha, IA. Karleen graduated from Newell High School in Newell, IA, in 1956.
On August 16, 1959, Karleen was united in marriage to Richard Sanders at St. Paul Lutheran Church in Sac City, IA. They made their home in Early where she worked for the family business, Sanders Hardware Hank for over 50 years. Karleen was a founding member of Faith Lutheran Church in Early and attended this church until her death.
Karleen was a devoted and loving wife, mother, grandmother, sister, and aunt. She enjoyed attending her son's sporting events in high school and college, including a trip to Tacoma, Washington to watch his college football team win an NAIA National Championship. She loved watching her grandsons participate in athletics in high school and college.   In her free time, Karleen enjoyed playing cards with family and friends, participating in a card club for more than 50 years. She loved making trips to Minnesota to see her sisters and their families. Getting together for Christiansen family reunions was something she always looked forward to. Karleen was also a terrific bowler, accomplishing several 200 games and 500 series.
Survivors include her son Stuart (Jody) Sanders of Nevada, IA; grandsons: Jordan of Grimes, IA, and Jacob of Nevada, IA; sisters: Janice Massey of Shoreview, MN, and Myra (Arnie) Radman of Randolph, MN; two brothers-in-law: Robert (Janie) Sanders of Johnston, IA, and William (Jennifer) Sanders, of Des Moines, IA; many nieces, nephews, cousins, and many friends.
Karleen was preceded in death by husband Richard, infant son Timothy Allan, parents Glen and Emma, parents-in-law Aubrey and Veva Sanders, and sister-in-law Ruth Sanders.