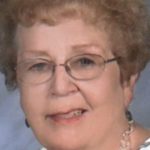 Judith Kay, daughter of Emil and Margaret (Vehrs) Wegner, was born April 23, 1939, in Manning, Iowa. She grew up in Manning and graduated from Manning High School in 1958.  Judy worked as a beautician and housekeeper at the Bishop Drumm Nursing Home in Des Moines for more than 41 years.  Judy is a member of Zion Lutheran Church. She cherished the time spent with her family and friends.  On Friday, September 3, 2021, Judy passed away at Manning Senior Care in Manning, Iowa. She was 82 years of age.
Funeral services for 82 year old Judy Wegner of Manning will be Thursday at 10:30am at the Zion Lutheran church in Manning with burial in the Manning Cemetery.  Friends may call at the church from 9:30am to 10:30am on Thursday.  Judy is survived by a sister-in-law, Marjean Wegner of Florida and by many nieces and nephews.  The Ohde Funeral Home in Manning is in charge of the arrangements.
Judy is survived by a sister-in-law Marjean Wegner of Jacksonville, Florida; several nieces and nephews: Gary (Betty) Wegner of Audubon; Connie Singsank of Manning; Dale (Linda Firebaugh) Wegner of Anita; Carolyn (Jim) Gress of Nebraska City, Nebraska; Leslie (Sheryl) Wegner of Carroll; LeRoy (Karen) Wegner of Warrensburg, Missouri; Mary (Gary) Weitl of Templeton; Randy (Julie) Wegner of Audubon; Brent (Larry Smith) Thompson of Chicago, Illinois; Beth Hanna of North Liberty; Janel (Marc) Stopeck of Oak Park, Illinois; Jody (Don) Nelson of Chicago, Illinois; Bill Wegner of Des Moines.
She was preceded in death by her parents; and five brothers: Melvin (Helen), Paul, Warren ( Zelda),   a sister Lucille Thompson; Frank and Don Wegner; and two nephews Jeff and Mike Wegner.  www.ohdefuneralhome.com