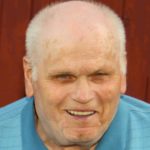 Harold "Harry" Edward Brincks, age 72, of Carroll, IA, passed away peacefully on Monday, September 6, 2021 at Regency Park in Carroll surrounded by his family.
     Mass of the Christian Burial will be celebrated at 10:30 A.M. on Monday, September 13, 2021 at Holy Spirit Church – St. John Paul II Parish in Carroll with Fr. Merlin Schrad as Celebrant.  Music for the Mass will be by Jane Heithoff as pianist and the Holy Spirit Choir.  Violinists will be Megan and Laure Klocke. Lector for the Mass will be JoAnn Brincks.  Mass servers will be Hanna, Emma, and Carter Brincks.  Eucharistic Minister will be Mary Ann Brincks.  Gift Bearers will be Grandsons: Linkin Weitl, Ethan Brincks, Keaton Brincks, Sam Bates and Charlie Bates.  Casket bearers will be Gary Brincks, Brian Brincks, Tom Brincks, Carl Brincks, Ron Brincks, and Bob Venner.  Burial will be in Mt. Olivet Cemetery in Carroll.
     Friends may call at the Dahn and Woodhouse Funeral Home in Carroll after 4:00 P.M. on Sunday where there will be a Rosary at 5:00 P.M. and a Christian Wake Service at 6:30 P.M.  The casket will be moved to Holy Spirit Church at 9:30 A.M. on Monday where visitation will resume until 10:15 A.M.
     In lieu of flowers, the family suggests memorials be made to St. Anthony Cancer Center and may be left with the funeral home or at the church.  You may donate online at this link: https://www.stanthonyhospital.org/about-us/support-us/donate-online/
     Funeral arrangements are under the direction of the Dahn and Woodhouse Funeral Home in Carroll and online condolences may be left for the family at www.dahnandwoodhouse.com
     Harry was born on November 4, 1948 in Carroll, IA, and he was the son of Edward P. and Rita (Gerken) Brincks.  He grew up on a farm 3 miles north of Willey and graduated from Kuemper High School in 1966. Following high school he joined the Air Guard and worked at Scheck's Plumbing and Heating in Carroll and then Shriver Construction of Jefferson.  On June 23, 1979 he married Jan Hinson at Holy Spirit Catholic Church in Carroll with Fr. Merlin Schrad as Celebrant.  Harry then farmed and started his own plumbing business, Brincks Plumbing, working on wells for local farmers.  He began driving truck in 1991 and retired in 2007.  After his retirement from trucking, Harry enjoyed playing cards, fishing, gardening, watching wildlife, traveling and spending time with his grandchildren.
     Harry is survived by his wife Jan Brincks of Carroll; three children: daughter Rebecca Bates (Bob) of Albuquerque, New Mexico; son Andrew Brincks (Ashley) of Carroll; and son Tim Brincks of Carroll; a sister Joan Trofka (Joe) of Fort Collins, Colorado; two brothers: Dave Brincks (MaryAnn) of Carroll and Greg Brincks (Joyce) of Carroll; five grandsons: Linkin Weitl, Ethan and Keaton Brincks; and Sam and Charlie Bates.
    Harry was preceded in death by his parents Ed and Rita Brincks; his father and mother-in-law: John and Ruth Hinson; a sister Mary Jane in infancy; and brothers Jerome and John both in 1968.