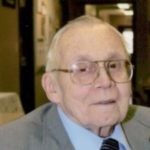 Funeral Service will be held at 10:30 a.m. Saturday, August 28, 2021 at the First Christian Church in Sac City, IA, with Reverend Mark MacWhorter officiating.  Burial with military honors will be at Oakland Cemetery following the service.  Visitation will be held prior to the service at 9:30 a.m. – 10:30 a.m. at the church.
Richard Foster Brown, only son of F. Willard and Edna Foster Brown was born on July 10, 1931, in Sac City, Iowa. He grew to manhood in Sac City and graduated from Sac City High School in 1950. In February, 1952, he was drafted into the army, taking his basic training and schooling at the Quartermaster Replacement Training Center, Fort Lee, Virginia. He was sent to Busan, South Korea, during the Korean conflict and served as a parts clerk and bookkeeper in the Maintenance Department of the 47thMotor Pool. He was honorably discharged in 1954, having attained the rank of corporal. He returned to Sac City and worked for the Farmers Lumber Co. and Redi-Mix plant for 20 years; then worked for the Farm & Home Hardware store for 20 years before retiring in 1996.
Richard was baptized in the First Christian Church in Sac City at a young age. He faithfully served in the church throughout his lifetime, serving as a deacon, an elder, church board moderator, and teaching Sunday School classes for many years. He was a member of the VFW and American Legion Post No. 195 where he was a past commander. He was a member of the Sac City Lions Club where he served as the club's secretary for many years and was a faithful participant in all their community service activities. In 2006, Richard was named a Melvin Jones Fellow by the Lions Clubs International Foundation. This is the Foundation's highest honor and is given in recognition of commitment to humanitarian service.
Richard enjoyed bowling and belonged to a bowling league for many years. He also enjoyed gardening and maintained a large garden as long as he was able.  Richard had a soft spot in his heart for kids, and loved being with his niece and nephews. He especially enjoyed going to Texas with his sister's family at Christmastime to spend the holidays with them.
 Richard became a resident of Park View Rehab Center in May, 2019, and passed away on Saturday, August 21, 2021. Left to cherish his memory is his sister, Harriett Gross of Manning, Iowa, his niece, Lori and husband, Ken Maynard of Waterloo, Iowa, his nephews, Randy and wife, Pam Gross of Baytown, Texas, and Kyle Gross of Olney, Texas. Also, extended family members, Jennifer Peacemaker, Joey Gross and Michael Gross, as well as other relatives and friends. He is preceded in death by his parents and a brother-in-law, Lyle Gross