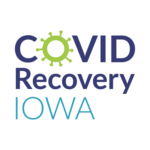 More than 16 months after the onset of the COVID-19 pandemic, a disaster assistance program has received a grant extension from the federal government. Karen Hyatt is an emergency mental health specialist with the Iowa Department of Human Services (DHS) and administrator of the initiative, COVID Recovery Iowa. She says with this extension they will be shifting their focus in some ways.
This could be how to improve their community or personal spaces. How to rediscover wellness in employment or a fitness routine. Hyatt says hope plays a big part and they want people to rediscover this and find the way forward, even if that looks different than it did in the past. COVID Recovery Iowa helps the state's residents in a variety of different ways and it is all free of charge.
She says even if people don't have a financial need, it is stressful to deal with changes, whether they be temporary or permanent.
She says nobody is untouched by the pandemic.
Hyatt adds that the extension is timely as well as healthcare experts monitor spread of the Delta variant.
There are many, many people who have never had to search for mental health services before and these experts are here to guide them through the process of finding a local provider or getting immediate assistance at COVID Recovery Iowa. A link to the website that provides access to all the different resources available can be found below.
______________________________
Link to COVID Recovery Iowa website: www.covidrecoveryiowa.org